David Letterman To Retire In 2015 [Updated With Video]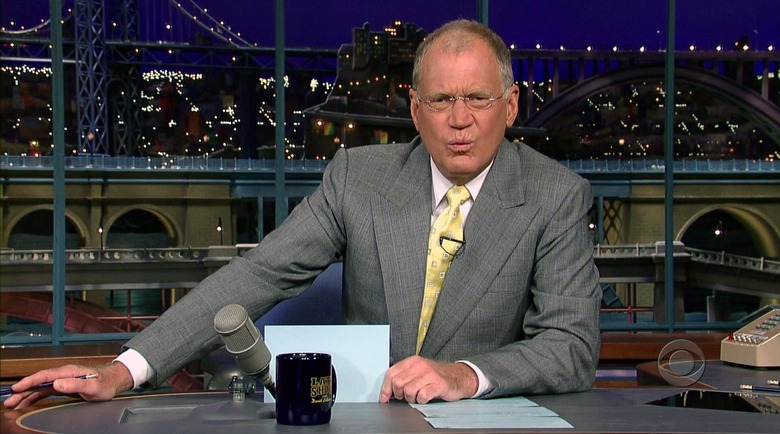 David Letterman has announced he will retire in 2015. The announcement was made during a taping of The Late Show on Thursday, April 3rd 2014. In October it was announced that Letterman had extended his Late Show hosting contract through 2015, and many suspected that this would be his last run behind the desk. At the time, Letterman joked via a press release that "[CBS CEO] Les [Moonves] and I had a lengthy discussion, and we both agreed that I needed a little more time to fully run the show into the ground." With Jay Leno's departure from the late night landscape, the late night wars have seemed rather uninteresting.
News that 66-year-old Letterman had announced his retirement broke on Twitter on Thursday afternoon after musician andLate Show guest Mike Mills tweeted Letterman's big news:
Dave just announced his retirement #2015 #muchlovedave
— Mike Mills (@m_millsey) April 3, 2014
Letterman has been Late Show host on CBS for 22 years, and that follows 11 years of hosting NBC's Late Night. Letterman famously left NBC when Jay Leno took Johnny Carson's Tonight Show host spot when he retired in 1992. I was always a Letterman fan and didn't enjoy Jay Leno's Tonight Show much.
When Jay Leno stepped down hosting The Tonight Show in January, he was replaced by Jimmy Fallon. The young(er) comedian has been crushing it in the late night ratings, even going as far as beating the combined ratings scores of Late Show with David Letterman and Jimmy Kimmel Live for the Week of March 24-28.
No word yet on who will replace Letterman as Late Show host. Letterman's company Worldwide Pants also produces The Late Late Show with Craig Ferguson, so that may be the most obvious choice. Lena Dunham seems optimistic about "what this could mean for the diversification of late night":
I love Letterman but I am really excited about what this could mean for the diversification of late night. Trying not to be a pessimist...

— Lena Dunham (@lenadunham) April 3, 2014
On the other hand, Nikki Finke's inside sources claim that Stephen Colbert is "the only one on the air currently that CBS is considering."
I personally hope that David Letterman will make a stop on The Howard Stern Show to have a lengthy discussion about his life and career before going off into the sunset. Letterman's appearance during Howard Stern's birthday bash earlier this year was one of the more intimate discussions with the late night host:
Here's Letterman's on-air farewell, which was posted online after the announcement hit:
The official announcement press release follows:
David Letterman, during a taping of tonight's 'Late Show', said that he informed Leslie Moonves, President and CEO of CBS Corporation, that he will step down as the host of the show in 2015, which is when his current contract expires.
"The man who owns this network, Leslie Moonves, he and I have had a relationship for years and years and years, and we have had this conversation in the past, and we agreed that we would work together on this circumstance and the timing of this circumstance. And I phoned him just before the program, and I said 'Leslie, it's been great, you've been great, and the network has been great, but I'm retiring,'" said Letterman.
"I just want to reiterate my thanks for the support from the network, all of the people who have worked here, all of the people in the theater, all the people on the staff, everybody at home, thank you very much. What this means now, is that Paul and I can be married."
"We don't have the timetable for this precisely down – I think it will be at least a year or so, but sometime in the not too distant future, 2015 for the love of God, in fact, Paul and I will be wrapping things up," he added, to a standing ovation from the audience in the Ed Sullivan Theater.
Letterman's career as a late night broadcaster has spanned more than 32 years and nearly 6,000 episodes. He was the first host of Late Night at NBC from 1982-1992, and he has been the only host of Late Show, which he created on CBS in 1993. The two shows have been nominated for 108 Emmys, winning eight. Late Night received a Peabody in 1992, and Letterman became a Kennedy Center Honoree in 2012.