FX's 'Fargo': Watch The First Seven Minutes Right Now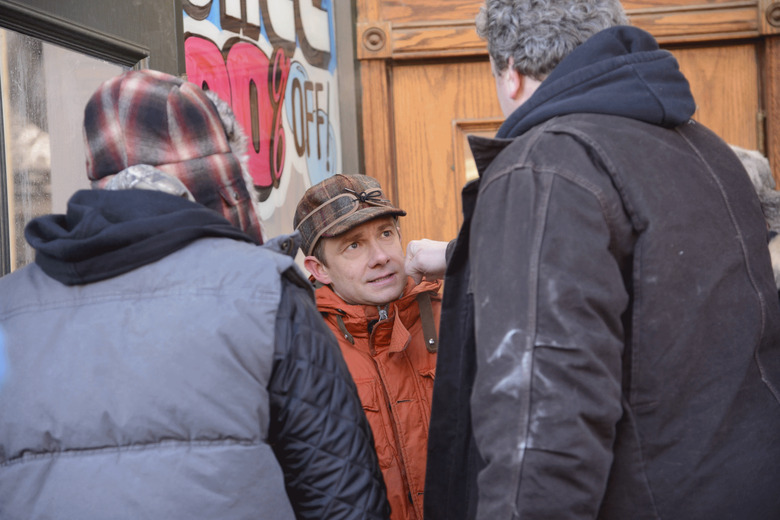 FX's Fargo won't premiere for another couple of weeks, but with all the good TV shows coming up on the horizon, why not get a head start on this one? The network has released the first seven minutes of their new Coen Brothers-inspired miniseries, starring Martin Freeman and Billy Bob Thornton. Watch the FX Fargo Seven Minutes clip after the jump.
Watch the Opening: FX Fargo Seven Minutes
Fargo the miniseries isn't really a remake of Fargo the movie. The location, characters, and plotlines are all different, and all totally new for the movie. But it's easy enough to tell that they come from the same place. It's still a darkly comic tale set in a small Midwestern town, where the locals speak in thick accents and bundle up against the winter chill. Even the possibly-not-entirely-true "based on a true story" claim is the same.
This tale centers around Freeman's Lester Nygaard, whom you can think of as the Jerry Lundegaard counterpart. He's an insurance salesman who's short on cash but fat with self-loathing. His life changes when he meets Thornton's Lorne Malvo, a mysterious stranger drifting through town.
The first few minutes of the show don't reveal how their paths collide or what exactly happens when they do, but it makes efficient work of laying out the setting and main characters. There's also the entertainment of watching a British actor trying to wrap his tongue around that tricky Minnesota accent. It sounds a bit forced, but otherwise it's not bad.
Colin Hanks, Allison Tolman, Bob Odenkirk, Oliver Platt, Kate Walsh, Keith Carradine, Adam Goldberg, and Glenn Howerton also star in the ten-episode limited series, which premieres April 15 on FX. The Coens are executive producing the series, which was written by Noah Hawley.
An original adaptation of the Academy Award®-winning feature film, Fargo features an all-new "true crime" story and follows a new case and new characters, all entrenched in the trademark humor, murder and "Minnesota nice" that made the film an enduring classic. Oscar® winner Billy Bob Thornton stars as "Lorne Malvo," a rootless, manipulative man who meets and forever changes the life of small town insurance salesman "Lester Nygaard," played by BAFTA Award® winner and Emmy®-nominated Martin Freeman. Colin Hanks plays Duluth Police Deputy "Gus Grimly," a single dad who must choose between his own personal safety and his duty as a policeman when he comes face-to-face with a killer. Allison Tolman also stars as "Molly Solverson," an ambitious Bemidji deputy.