'The Angriest Man In Brooklyn' Trailer: Robin Williams Is Pissed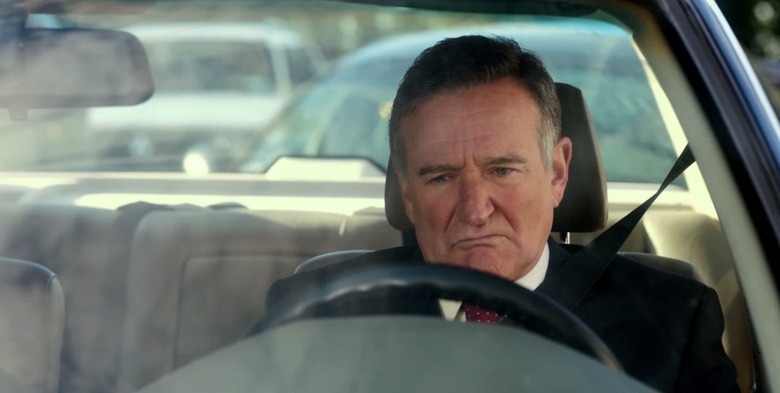 New Yorkers aren't exactly known for our sunny, upbeat demeanor. But even by the city's surly standards, the character Robin Williams plays in his next movie has an attitude problem. He's such an obnoxious jerk, in fact, that in the first Angriest Man in Brooklyn trailer, he causes his doctor (played by Mila Kunis) to snap and tell him he has 90 minutes left to live.
What ensues is a mad-dash scramble to try and set things right before time is up. Williams' Henry attempts to quickly mend his relationships with his wife (Melissa Leo), his brother (Peter Dinklage), his son (Hamish Linklater), his friends... it turns out pretty much everyone who's met him has reason to be unhappy with him. Watch the first Angriest Man in Brooklyn trailer after the jump.
The Angriest Man in Brooklyn Trailer
The Angriest Man in Brooklyn is the first movie directed by Phil Alden Robinson since 2002's The Sum of All Fears. (Previously, he helmed Field of Dreams and Sneakers.) Williams hasn't been away from the big screen for quite that long — he had a small role just last year as Dwight D. Eisenhower in Lee Daniels' The Butler — but it does feel like it's been a while since we saw him leading a comedy of his own.
Though the entire plot of The Angriest Man of Brooklyn revolves around Williams' imminent death, it looks pretty lighthearted. Maybe it's because Williams doesn't really seem like the unhappy type to begin with. Unlike a lot of comics, he's not particularly known for having a bitter sense of humor, and he seems more just cranky than truly, deeply angry here.
And he's bound to be even less angry once he learns all the usual lessons about love and family and What's Really Important in Life. Still, there's enough fun stuff here to keep it from becoming completely saccharine. Look for The Angriest Man in Brooklyn in theaters and on VOD starting May 23.
Thanks to Yahoo, who posted the trailer.