Quentin Tarantino Directing 'The Hateful Eight'... On Stage, For One Night Only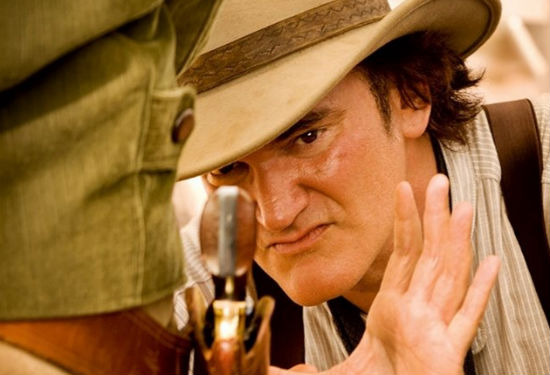 As a film, Quentin Tarantino's western The Hateful Eight is dead. (Or it may not be, but don't queue up for tickets any time soon.) The script, however, will come to life on stage at LACMA thanks to Film Independent. That's the same outfit that promotes Jason Reitman's Live Read series, which we've covered many times in the past. Now Film Independent has scheduled the ultimate Live Read, as Quentin Tarantino will direct The Hateful Eight once, live, on stage.
The event takes place on April 24. It is a fundraiser for Film Independent, and tickets don't come cheap. They're $200. That's not exorbitant, but it's out of my price range for the month, and there's no small frustration to knowing that I very likely won't see Tarantino's event. But I can live with missing it, in part because I think this is a great idea.
There's no real scarcity now when it comes to media, but Film Independent and Tarantino are about to create a unique experience. The regular Live Reads are curios that attempt to do something entertaining with a well-known text. This, however, is the first and possibly only time The Hateful Eight will go before an audience. Given that much of Tarantino's fury over the Hateful Eight script leak was about losing control — which caused him to cancel plans to make the film — this seems like a very public way of taking back what he lost, and making it his own again.
And who's to say that the experience of seeing The Hateful Eight received by an audience won't make QT rethink the decision to kill the film? Rumors say he's already started to reconsider. If there's anything that could push him over the edge, it might be an audience that falls in love with his script as it is performed with his chosen cast.
At the moment, we don't have any details on who'll be in that cast. In all likelihood, the cast will not be revealed before the night of the show.
Here are the details. Tickets are at here.
Academy Award®–winning writer/director Quentin Tarantino casts and directs the debut of his original screenplay The Hateful Eight (the filmmaker's own, unmade script), for a special night of entertainment for Film Independent at LACMA program. Tarantino made headlines when he decided to shut down production of the project after the script was leaked without his approval.
The Hateful Eight follows the steadily ratcheting tension that develops after a blizzard diverts a stagecoach from its route and traps a pitiless and mistrustful group comprised of a competing pair of bounty hunters, a renegade Confederate soldier, and a female prisoner in a saloon in the middle of nowhere.
Tarantino, an equally potent force of nature, reads stage directions and directs a group of actors he selects through material that mixes distinctively etched characters, drama, humor, and violence—the marriage of elements that in the past has defined the phrase "a film by Quentin Tarantino."
This is a one time–only occasion. This is a premiere event that will not be recorded or live streamed.