'Guardians Of The Galaxy' And 'Age Of Ultron' Spinoffs Possible; Marvel Movies Plotted Through 2028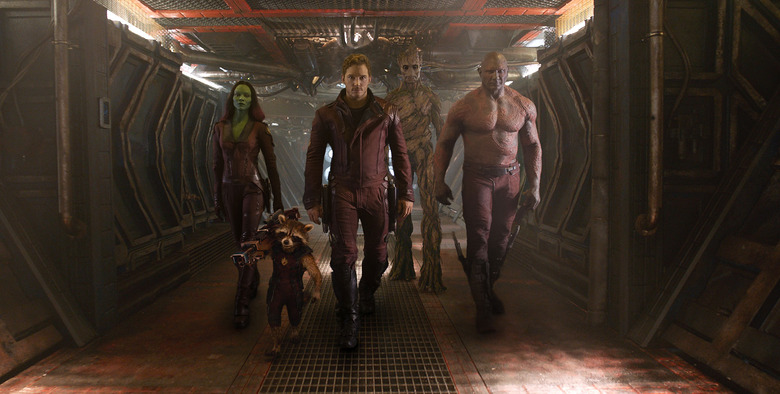 In the past seven months, Kevin Feige has tentatively planned out another seven years of Marvel movies.
Last August, the president of Marvel Studios was quoted as saying he had a tentative plan for the Marvel Cinematic Universe through 2021. That's a lot of movies. Now, a new report says that plan has expanded through 2028. Plus, depending on the potential success of Guardians of the Galaxy this summer, that plan might include spinoffs into solo movies focusing on either Star-Lord (Chris Pratt), Gamora (Zoe Saldana), Drax the Destroyer (Dave Bautista), Rocket Raccoon (Bradley Cooper) or Groot (Vin Diesel). They've also discussed spinning the new characters introduced in Avengers: Age of Ultron off into their own movies.
Read about these potential Age of Ultron and Guardians of the Galaxy spinoffs, plus the new 14-year Marvel plan, below.
The information comes from an article at Business Week (via The Playlist). Here's the excerpt, which includes the aforementioned quote from Feige's boss, Disney CEO Bob Iger:
Much of Marvel's success can be attributed to Feige. He has a special understanding of comics, fans, superheroes, and narrative. He concedes that Marvel won't recover the film rights to Spider-Man or the X-Men anytime soon but says Marvel has something more valuable: a universe of thousands of characters it controls entirely. That means Feige can produce an unlimited number of films with interweaving story lines and characters, creating a vast audience for almost any Marvel movie. People might show up for The Avengers, meet the Black Widow, and come back for her movie, too. There's a map of films reaching far into the next decade on the wall of Feige's office. "It's like looking through the Hubble telescope. You go, 'What's happening back there? I can sort of see it,'?" he laughs. "They printed out a new one recently that went to 2028." 
It's important to realize this plan is far from set in stone. It's a tentative idea of how the MCU can keep expanding if it keeps working out. So even if you somehow sneak into Feige's office and check it out, the real film release plan likely won't end up 100% the same. Plus, it doesn't say if this assumes a release pattern of 2 movies a year or more.
As for those Guardians movies, here's the excerpt on that:
Iger would like to replicate the success of The Avengers with other Marvel teams. He says Marvel could potentially spin off members of the Guardians of the Galaxy, which include Star-Lord, Gamora, Drax, Groot, and Rocket Raccoon, in their own features....Iger and Alan Horn, chairman of Walt Disney Studios, recently met with the Marvel team to talk about new heroes who will be introduced in Age of Ultron and could be spun off in their own films as well. Iger declines to name them. "The possibilities are endless," he says.
Does that mean Quicksilver and Scarlet Witch? Vision? Ms. Marvel? Ultron? We'll have to wait and see.
The article also documents a pretty awesome exchange between Feige and Gunn in the Guardians edit room last month where they describe a scene that sounds very much like Thanos floating in space. "That could not be a bigger spoiler," Feige said. The article is basically a detailed Marvel Studios history lesson, but it's definitely worth a read for that alone.
What do you think could be on the list up to 2028? Which new character introduced in Guardians and Ultron would make the best solo movies?