Cool Stuff: Sideshow Collectibles' 'Star Wars' General Grievous Sixth Scale Figure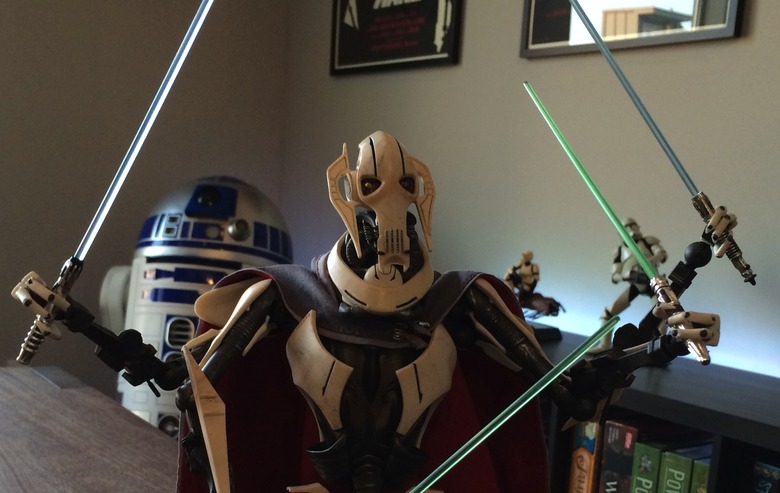 Sideshow Collectibles sent me a sample of their Star Wars General Grievous Sixth Scale Figure. Lets unbox this figure and take a look at whats inside the box. After the jump you will find photos of the Sideshow Star Wars General Grievous Sixth Scale Figure, alongside my thoughts on the product.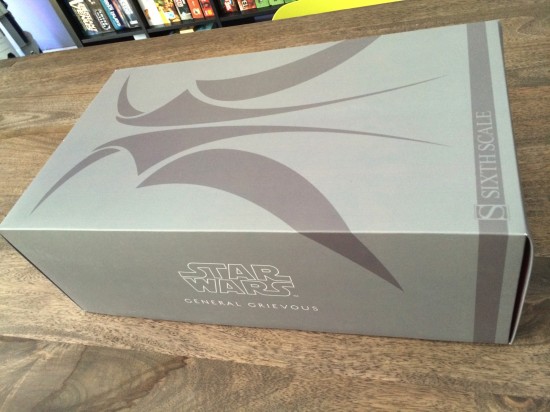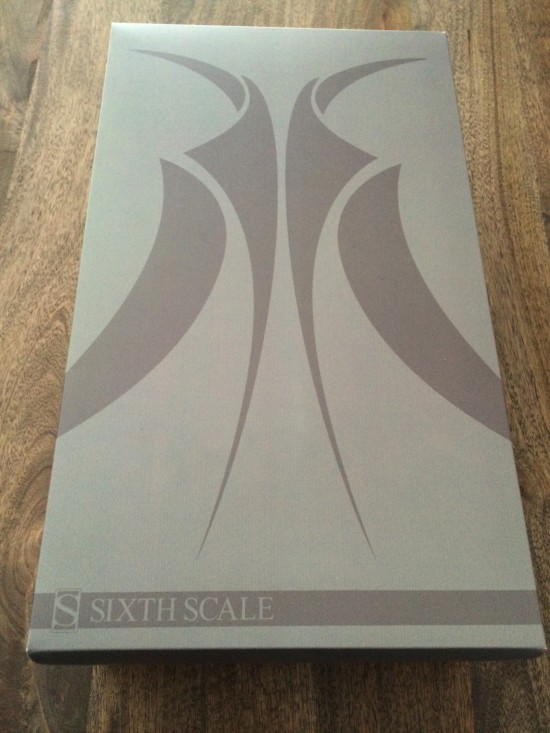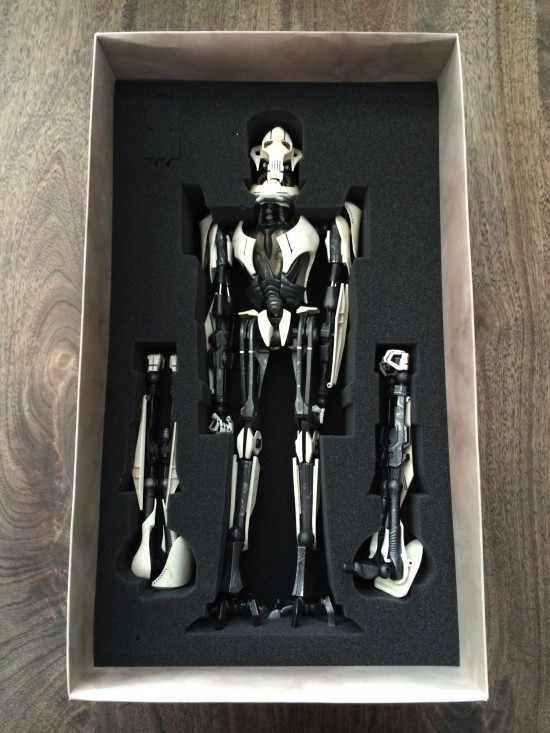 Sideshow Star Wars General Grievous Sixth Scale Figure Reviewed
Sculpted by Tim Niver, Toi Ogunyoku, Patrick Pigott, Michael Norman and Pascual Wawoe, the intricacies and detailing of this figure is far above most other collectible figures. I've never really been a huge fan of The Clone Wars, and I've never felt Grievous was fully explored in Revenge Of The Sith. But I've always thought this character's design was cool, and am excited to finally explore the Clone Wars animated series to spend more time with the General.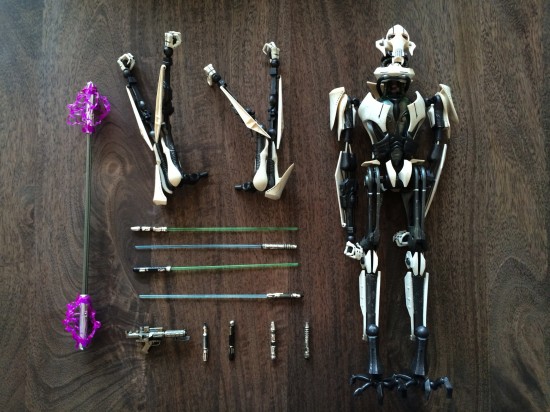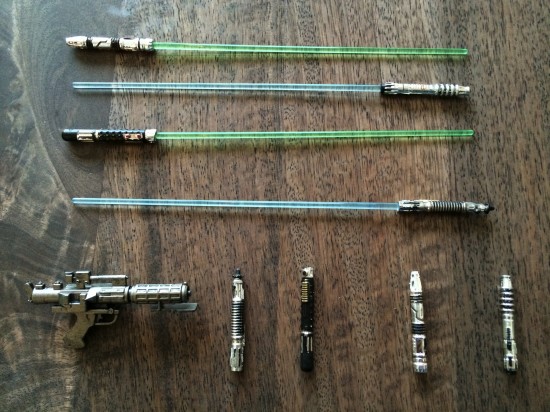 Anthony Mestas' paint job gives the figure nicks and scratches, adding a battled grounded worn-in look. The figure comes with a fabric cape, designed by Kevin Ellis, complete with detailed lining, a clasp, featuring pockets for Grievous' unused lightsaber hilts. I'm not usually a fan of fabric on collectible figures (one of the reasons I usually lean towards statues over figures), but this cape looks fantastic.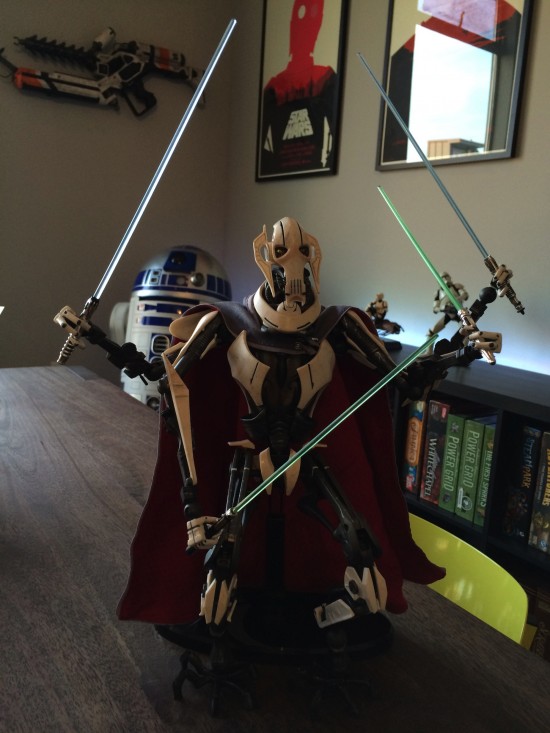 General Grievous comes with a ton of different weaponry, including four Lightsaber Hilts in both ignited and hilt-state, a DT-57 "Annihilator" Heavy Blaster Pistol, and an Electro Staff with removable energy clusters.
Sideshow apparently spent two years on this figure trying to perfect the product, and it shows. The people at Sideshow have geniusly designed magnets into all of the  lightsaber hilts, so that they stick to each of the General's hands. I've seen other figures that came with weapons that clearly were not designed to stay in the hands of the figure, cheers to the designers at Sideshow for going the extra mile to make this collectible work the way its advertised.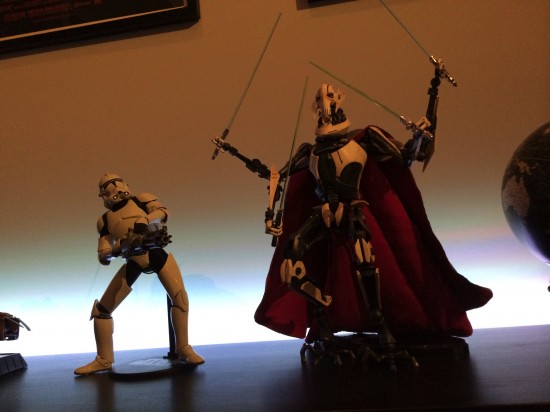 This figure is massive and dwarfs other normal sized six scale figures — Grievous stands 16 inches high. Because of the size and intricate sculpt, it looks more like a statue than a figure. The figure comes with insanely-customizable fully Articulated legs, arms, neck, torso, a pair of left and right fused arms to swap out as an option, although I suspect most Star Wars fans will display this figure with the split arms option.
While some of the Star Wars sixth scale figures can stand up on their own, General Grievous definitely requires the support of the supplied display base. The base stand has pivoting figure support, allowing you to display the character in a variety of positions, like his hunched ready for battle stance. But be careful to set the stand up properly — I set the figure up to take photos and didn't set the stand up properly and Grievous suffered a fall.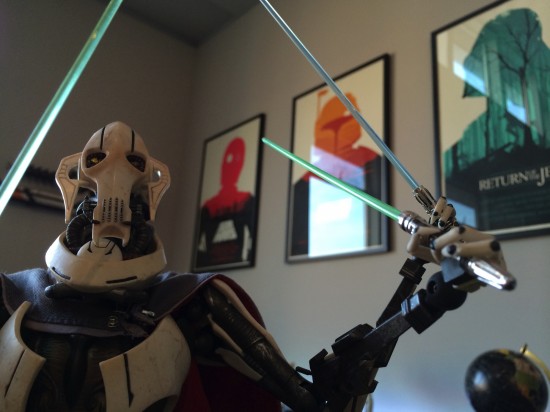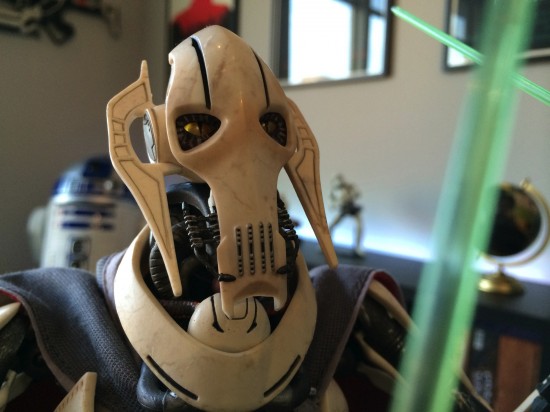 Here is the official product description for the Sideshow Star Wars General Grievous Sixth Scale Figure:
With the Galactic Republic in shambles, a powerful new Confederacy of Independent Systems forms a droid army of incomprehensible size. General Grievous, a brilliant military strategist and remorseless killer, leads the Armies of the Confederacy, waging a deadly war for control of the galaxy. Sideshow Collectibles is proud to introduce the long-awaited General Grievous Sixth Scale Figure. Engineered with meticulous attention to detail, the fully articulated body can achieve countless poses, recreating vivid scenes of battle and victory. Fully equipped with detailed weapons and accessories including switch-out fused and split arms, four lightsabers, electro staff, and a hand-tailored fabric cape, the General Grievous Sixth Scale figure is an essential addition for any Star Wars collector
The Sideshow Star Wars General Grievous Sixth Scale Figure is availale for $249.99.