'An Inconvenient Truth' Sequel May Be Coming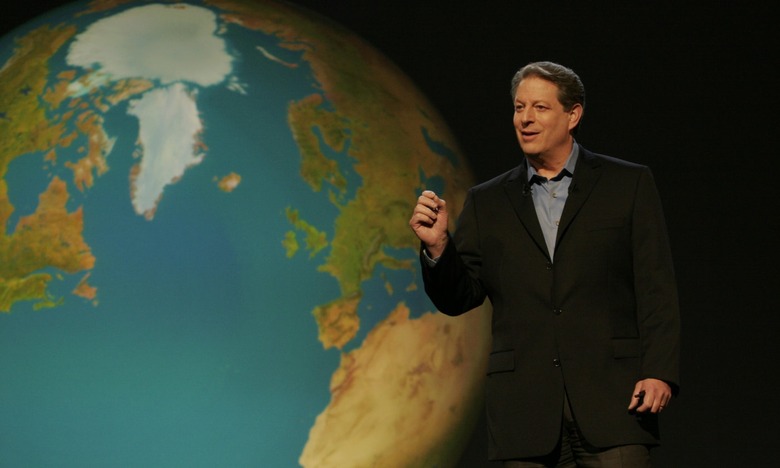 An Inconvenient Truth made quite an impact when it hit in 2006, but it wasn't enough. The issue of climate change is still far from resolved. Worse, it's a problem that not everyone is even willing to admit exists — plenty of people still refuse to believe global warming is happening at all, experts be damned.
So the filmmakers behind the hit documentary are regrouping to talk about an Inconvenient Truth sequel. "God, do we need one," said producer Laurie David. More on their plans after the jump.
THR got the dirt from the people behind the first Inconvenient Truth. "We have had conversations," confirmed producer Lawrence Bender. "We've met; we've discussed. If we are going to make a movie, we want it to have an impact."
At a recent fundraiser for UCLA's Institute of the Environment and Sustainability, Bender assessed the impact his movie had had. "At the time, we hoped to provoke a global conversation about climate change," he said. "Our new inconvenient truth is that not nearly enough concrete action has been taken."
David agreed with his sentiments while chatting with THR. "Everything in that movie has come to pass. At the time we did the movie, there was Hurricane Katrina; now we have extreme weather events every other week," she pointed out. "The update has to be incredible and shocking."
Narrator Al Gore, for his part, has been talking about the need for a sequel for years already. "I have to say the situation has not improved since I made the movie in 2006," he said back in 2008. "Sure, awareness has grown and more people are concerned since scientists said we had just ten years to take action to halt rising sea levels. But the situation has got worse."
The original Inconvenient Truth landed with a splash, earning $50 million at the worldwide box office, picking up two Oscars, and helping narrator Al Gore earn the 2007 Nobel Peace Prize. But Bender worries that the fossil fuel industry has done too good a job fighting back. "They did a really good job of pushing back and confusing people," he said. "Some people actually believe global warming doesn't exist."
Nevertheless, Inconvenient Truth sequel isn't a certainty just yet. Nothing has officially been set, and Scott Z. Burns, who produced the first one, said that he "would only support doing a follow-up if we have a really, really amazing way of attacking the issue and reinvigorating it." Which is pretty much the same thing he said about Blade Runner 2. That hasn't come to pass yet, either.