'Scream' TV Show: Main Characters Revealed Along With Possible Link To Film Series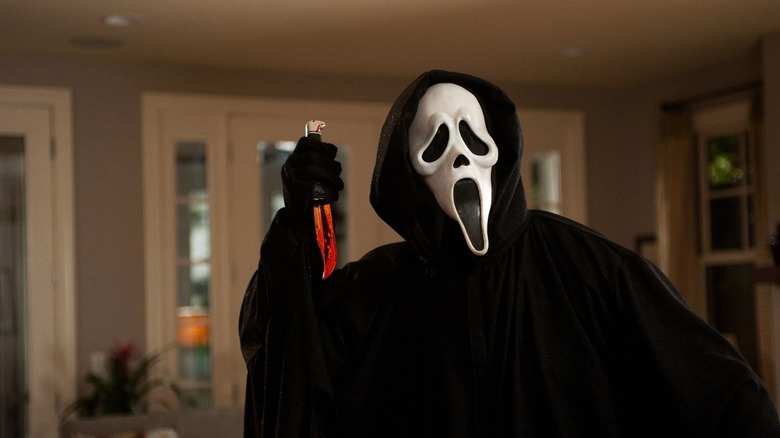 A year has passed since
based on the Wes Craven horror franchise Scream. Finally, casting has begun. We know because descriptions of the Scream TV show's four main characters have now been revealed. While they don't shine any particular light on how the series will tie into the films, they do give an idea of the dynamics of the show. They're very MTV.
However, one other piece of new information does offer a significant hint at how the Scream TV show will tie into the films. Read about it all below.
Thanks to
for these descriptions of the main characters of the Scream TV show:
Harper Duval: A 16-year-old beauty "who's a little too introverted and intellectual to be a social butterfly" but has nevertheless been annointed by the popular crowd to be one of their own. "She feels guilty that she has drifted away from former best friend Audrey," but at least she's got a Gilmore Girls-esque relationship with mom Maggie to keep her sane.
Audrey Jesen: Haper's former BFF is described as "the bi-curious daughter of a Lutheran pastor" who's "more arresting-looking than pretty." This "artsy loner" dreams of being a filmmaker and shares a close bond with tech genius Noah.
Noah Foster: Audrey's closest confidante is "creative, brilliant and tech-savvy enough to be the next Steve Jobs." Lucky for him, he's got a great sense of humor ("a la John Cusack in his teen prime") that helps him navigate the halls of his high school. What's more, Noah possesses "an encyclopedic knowledge of books, films, TV, apps, etc."
Margaret "Maggie" Duval: Harper's mom, in her early to mid-40s, is the town's medical examiner, "a grown-up science geek who plays down her beauty." Maggie spends a lot of her time trying to make up for the fact that Harper's dad abandoned them. Oh, and she's harboring "a dark secret from her past."
So it seems like the show has a very MTV vibe. Lots of pop culture, lots of teen angst and a downplaying of the vicious murder which is so prevalent in the films. One other clue, however, appears in the TV Line article and it's this description of the plot:
The pilot, penned by Jill Blotevogel (Ravenswood, Harper's Island, Eureka), kicks off with a YouTube video going viral, which will have adverse repercussions for teenager Audrey and seemingly serve as the "catalyst for a murder that opens up a window to [her] town's troubled past."
Could the YouTube video going viral tie into Emma Roberts' character at the end of Scream 4, who filmed every single murder in that movie? I
wrote the following back in 2011
about a potential plot for Scream 5:
Scream 4 ended differently, though, in that Jill became a star and we didn't see how her death was handled. Plus both she and Charlie filmed all of the killings, a storyline that was totally dropped in the film and in my estimation the fifth film would, most likely, explore the results of that footage getting out and Jill's fame. Possibly it could spawn a slew of obsessed copycat killers or maybe just one really vicious one. The different ways a story could go based on the ideas of viral snuff videos and web celebrity is endless.
With casting now underway, you'd imagine the pilot would be shot by this summer. Will Wes Craven direct it? We'll have to wait and find out.
What can you figure out from those character descriptions? How will the viral video play into the show? Is there anyway the pilot isn't picked up?