Sixteen 'The Expendables 3' Posters Feature The New, The Old And The Iconic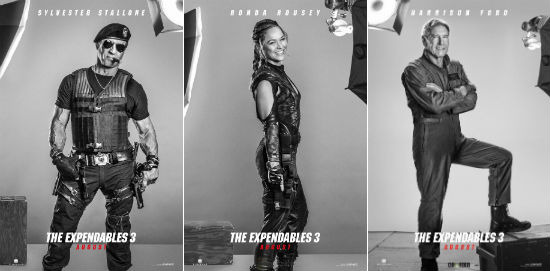 The badasses of action are back in not one, not two, but sixteen character posters for this summer's The Expendables 3. Everyone's here, including the returning cast (Sylvester Stallone, Terry Crews, Jet Li, Jason Statham, Dolph Lundgren, Arnold Schwarzenegger, Randy Couture), the new young team (Kellen Lutz, Ronda Roussey, Victor Ortiz, Glen Powell) and some new iconic additions (Harrison Ford, Kelsey Grammer, Wesley Snipes, Antonio Banderas, Mel Gibson). Directed by Patrick Hughes, the star-studded action film opens August 15. Check out sixteen Expendables 3 posters below.
Thanks to IGN, JoBlo, Collider and Coming Soon for these posters.
Those posters all look good but, wow, are they overwhelming when you look at them as a whole. With each Expendables movie the cast has become more and more impressive. This one is, by far, the biggest and best yet. If you told me in the early Nineties I'd get a movie with Stallone, Schwarzenegger, Snipes, Gibson, Ford together, that would have made me crazy. Add in El Mariachi, Frasier, and Ivan Drago and it's almost unfathomable.
Here's the official synopsis for the film, which opens August 15.
In The Expendables 3, Barney (Sylvester Stallone), Christmas (Jason Statham) and the rest of the team come face-to-face with Conrad Stonebanks (Mel Gibson), who years ago co-founded The Expendables with Barney. Stonebanks subsequently became a ruthless arms trader and someone who Barney was forced to kill... or so he thought. Stonebanks, who eluded death once before, now is making it his mission to end The Expendables – but Barney has other plans. Barney decides that he has to fight old blood with new blood, and brings in a new era of Expendables team members, recruiting individuals who are younger, faster and more tech-savvy. The latest mission becomes a clash of classic old-school style versus high-tech expertise in the Expendables' most personal battle yet.