'Lucy' Trailer: Luc Besson Helps Scarlett Johansson Unlock Her Full Potential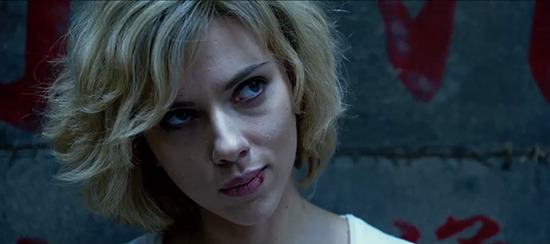 This week you can see Scarlett Johansson as a super-capable intelligence agent in Captain American: The Winter Soldier and as an alien in Under the Skin. Her next big role will be in Luc Besson's Lucy, in which she plays a normal woman who becomes almost superhuman, and then evolves to a point where she's nearly alien. The first Lucy trailer is out, and it shows just how bizarre life gets for this woman.
The basic idea here is the old (and totally wrong) saw about how humans use only a low percentage of their brain capacity, and wouldn't it be awesome if someone could unlock access to the rest? As in the film Limitless, the key here is a drug — in this case, it's one that Lucy (Johansson) is forced to transport, and which eventually pushes her into a sensory state that is far beyond any human experience. How is she able to do some of the stuff we see here? Presumably the film will explain. 
Lucy opens on August 8. Trailer via The Film Stage.
From La Femme Nikita and The Professional to The Fifth Element, writer/director Luc Besson has created some of the toughest, most memorable female action heroes in cinematic history. Now, Besson directs Scarlett Johansson in Lucy, an action-thriller that tracks a woman accidentally caught in a dark deal who turns the tables on her captors and transforms into a merciless warrior evolved beyond human logic.