'Teenage Mutant Ninja Turtles:' Fan Fixes New Turtles With Digital Plastic Surgery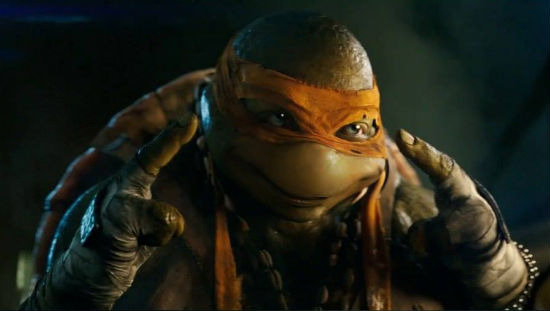 The first trailer for Jonathan Liebesman's Teenage Mutant Ninja Turtles reboot was received pretty well considering all the naysaying before the film was made. For years, fans raged online about rumored changes to their beloved comic book heroes-turned Saturday morning cartoon superstars. It turns out almost all of that venom was for naught as the trailer delivered a pretty solid tease of a film that seems very much in line with the Teenage Mutant Ninja Turtles we know and love.
Except for one, small thing.
The look of the Turtles was a big point of contention. And not the samurai inspired outfits; it was the noses. The Turtles looked super creepy, like a star after plastic surgery with a flat nose and two tiny nostrils. It's definitely a more human look, but they're not human. They're turtles.
Leave it to the Internet to mess with the filmmaker's vision. One Ninja Turtles fan tweaked the Teenage Mutant Ninja Turtles of the new movie, and improved their faces.
Here are the before and after images of this Teenage Mutant Ninja Turtle digital plastic surgery via Reddit, with a hat tip to Badass Digest.
On Michaelangelo, it's the "improved fan version" and the movie version. Then on Leonardo, it's a "classic" look, the "improved fan version in the middle," then the final film version.
Thoughts?
Here's the trailer
The reboot of Teenage Mutant Ninja Turtles is directed by Jonathan Liebesman. It stars Megan Fox, Pete Ploszek, Noel Fisher, Jeremy Howard, Alan Ritchson, Danny Woodburn, William Fichtner, Will Arnett, Whoopi Goldberg and opens August 8. Here's the official synopsis:
The city needs heroes. Darkness has settled over New York City as Shredder and his evil Foot Clan have an iron grip on everything from the police to the politicians. The future is grim until four unlikely outcast brothers rise from the sewers and discover their destiny as Teenage Mutant Ninja Turtles. The Turtles must work with fearless reporter April and her wise-cracking cameraman Vern Fenwick to save the city and unravel Shredder's diabolical plan.