'Ghostbusters' 30th Anniversary: NY, LA, Chicago And Comic-Con Get Art Shows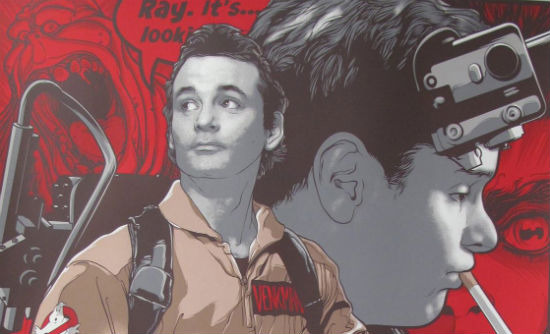 Gallery 1988 is bringing the Ghostbusters 30th Anniversary celebration to New York, Los Angeles, Chicago and San Diego. They're hosting a traveling art show that's hitting each of those four cities over the next four months. The dates and locations for the first two stops have been revealed. Along with the dates, we've got the first two pieces of art. One includes the likenesses of Bill Murray, Dan Aykroyd, Harold Ramis and Ernie Hudson.
Below, find out the official dates and locations for New York and Los Angeles and see the first two images.
First up, here are the first two official pieces of art from the show. The NYC map is by Anthony Petrie and the more traditional piece is by Joshua Budich. Each is a 24 x 36 inch screenprint.
And here are the particulars via ghostbusters30th.com:
Ghostbusters 30th Anniversary Art Show: New York
April 19 – 26
69 Leonard Street (bewteen Church & Broadway), New York, NY 10013
Opening reception: April 19 7-10 p.m.
Ghostbusters 30th Anniversary Art Show: Los Angeles
May 17 – June 1st
Gallery 1988 (West), 7308 Melrose Avenue, Los Angeles, CA 90046
Opening reception: May 17 7-10 p.m.
The show will then hit Chicago on June 20-22 and, finally, San Diego Comic-Con July 23-27. Each and every stop will have unique elements for that specific city/event, but lots of the art will be the same and travel from city to city so more and more Ghostbusters fans can enjoy it.
In addition to the limited edition screenprints fans know and love, there will be original artwork and official apparel. So even if you can't afford a $1000 original or $50 print, a $20 t-shirt might be worth going.
In the coming weeks, we'll have more info these shows including as much of the art we can round up. It's an exciting time to be a Ghostbusters fan. The only question now is, who you gonna call about it?