Brad Pitt Joins World War II Movie By 'Locke' Director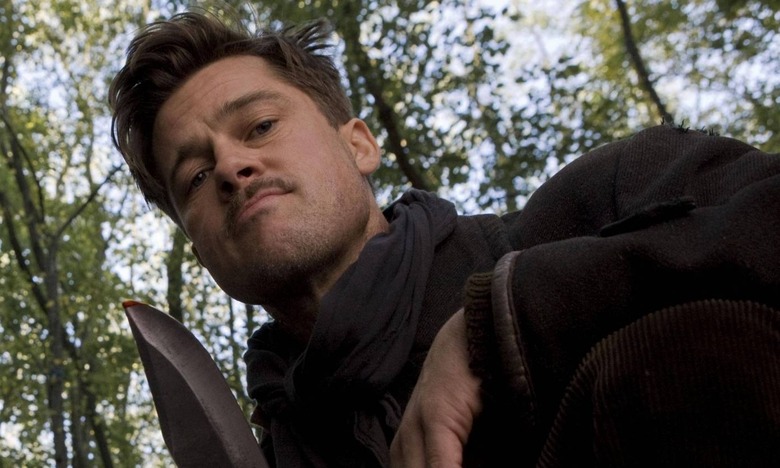 Fresh off of shooting David Ayer's Fury, Brad Pitt is looking to head back to World War II. This time, it'll be for an untitled romantic thriller scripted by Steven Knight, writer of Eastern Promises and Dirty Pretty Things and director of Locke. More details on the project after the jump.
World War II is familiar territory for Pitt, although it remains to be seen what angle Knight's tale will take. In addition to Fury, Pitt starred in Quentin Tarantino's Nazi-hunting pic Inglourious Basterds in 2009. He's also pretty well versed in cinematic world war in general; he had a hit last summer with World War Z and is currently prepping a sequel.
Pitt joined the elite echelon of Oscar winners earlier this year for producing Best Picture winner 12 Years a Slave. He will next be seen in Fury, about a tank full of American soldiers caught behind enemy lines in Nazi Germany, and he'll eventually be heard narrating the Terrence Malick-directed documentary Voyage of Time.
Very few plot details have been revealed so far about the new World War II pic, but given Knight's past credits we can probably expect something dark and tense. Knight took a bit of a break from the big screen after 2007's Eastern Promises (which he wrote), but has been busier than ever lately.
He received high praise on the festival circuit recently for writing and directing Locke, a taut thriller starring Tom Hardy. He also released the Jason Statham drama Redemption last year and the BBC drama Peaky Blinders last year. As a screenwriter, he had a hand in the upcoming films Seventh Son, The Hundred-Foot Journey, and Pawn Sacrifice.