'Halt And Catch Fire' Teaser: AMC's Vision Of The Wild West Of The Early '80s PC Revolution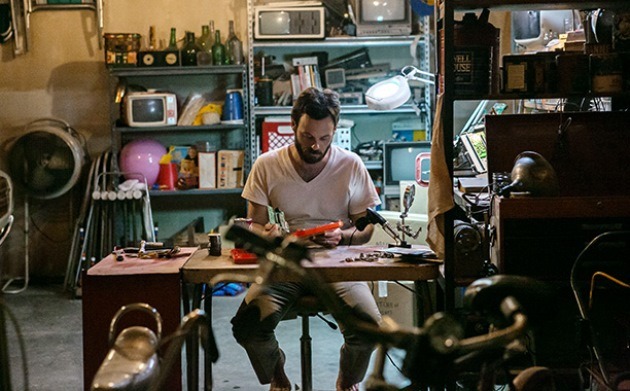 The title Halt and Catch Fire makes this new AMC show sound like a strange thriller, but it's really about the expansion of the PC market after IBM rose to prominence. That said, the show does look like a thriller to some extent, as a set of characters — primarily Lee Pace as Joe MacMillan, Scoot McNairy as Gordon Clark, Kerry Bishé as Donna Clark, and Mackenzie Davis as Cameron Howe — exploit particular aspects of IBM's design to create their own personal computer. Check out a Halt and Catch Fire teaser trailer below.
This will be a 10-episode series, from creators Chris Cantwell and Chris Rogers. Jonathan Lisco is executive producer and showrunner.
Halt and Catch Fire premieres on AMC on Sunday, June 1 at 10pm ET/PT.
"Halt and Catch Fire" is set roughly one year after IBM all but corners the market with the release of its first major product – the IBM PC. It is also the same year people realize the IBM PC's fatal flaw, which quickly makes personal computing anyone's game. In this fictional drama, a former IBM executive, Joe McMillan (Lee Pace) plans to reverse engineer the flagship product of his former employer, he forces his current company, Cardiff Electric, into the personal computer race. McMillan enlists the help of Gordon Clark (Scoot McNairy), a once great engineer who dreams of creating a revolutionary product while trying to manage his initially unsupportive wife Donna (Kerry Bishé), and Cameron Howe (Mackenzie Davis), a volatile prodigy who puts her future in jeopardy to join MacMillan's rogue PC project. While charting the changing culture of Texas' Silicon Prairie, tensions build within the group as they attempt to navigate the thin line between visionary and fraud, genius and delusion, and as their drive to do something that matters runs up against their ability to truly innovate.