See Apes Ready For War In A 'Dawn Of The Planet Of The Apes' TV Spot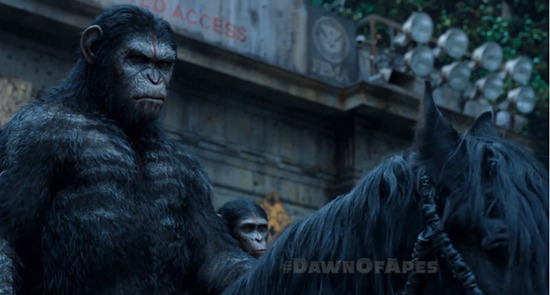 The first Dawn of the Planet of the Apes trailer was promising because it was all ominous tension as we started to see how humans feel cornered after a viral outbreak leaves evolved apes competing with humans for control of, well, everything. Now a Dawn of the Planet of the Apes TV spot shows off more of those evolved apes. While half of this spot is dedicated to the same shot we've already seen, of Caesar ready for war, there are a few new shots here of other simian characters. 
Dawn of the Planet of the Apes opens on July 11. It features Andy Serkis, Jason Clarke, Keri Russell, Gary Oldman, Toby Kebbell, Kodi Smit-McPhee, Kirk Acevedo, Enrique Murciano, and Judy Greer. TV Spot via Fox. Poster via Collider.
A growing nation of genetically evolved apes led by Caesar is threatened by a band of human survivors of the devastating virus unleashed a decade earlier. They reach a fragile peace, but it proves short-lived, as both sides are brought to the brink of a war that will determine who will emerge as Earth's dominant species.