Watch: Joss Whedon's Apology To Seoul For 'Avengers: Age Of Ultron'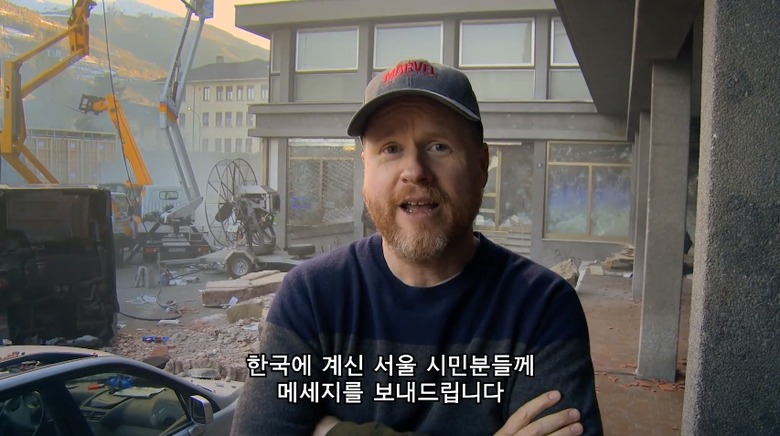 Joss Whedon rained death and destruction down upon New York City in the first Avengers movie, with no apparent remorse. But Avengers: Age of Ultron hasn't even started shooting yet in South Korea, and he's already apologizing to the people of Seoul for blowing up their fair city.
Watch his video message, from the Avengers: Age of Ultron set, after the jump.
Korean site MediaVOP posted the video.
The U.S. Embassy in Seoul put out its own message, reassuring Seoulites that they have nothing to fear.
Avengers 2 starts shooting in Seoul on March 30. If you see a big green man, don't be afraid! pic.twitter.com/qSB8rheIGs

— 주한미국대사관 U.S. Embassy Seoul (@USEmbassySeoul) March 19, 2014
Shooting on Avengers: Age of Ultron will run from March 30 through April 14 in Seoul, and is expected to be pretty disruptive to daily life in the city. Major bridges and areas will be shut down for the shoot. (More specific details can be found here.)
New Yorkers and Angelenos may be used to that kind of nonsense (as Whedon acknowledges in his video), but Seoulites aren't. Kotaku reports that South Korea "has apparently never given this sort of cooperation before for a feature film."
Whedon's move to get his "sorry"s out ahead of time isn't just sweet, then, it's savvy. Who could possibly stay mad at Whedon for screwing up their morning commute when he looks so kind and contrite in the video?
Hopefully it'll be worth it to locals in the end. According to Kotaku, the final film will include "about twenty minutes of South Korea footage," which sounds fairly significant. Comic Book Movie adds that the key scene set in Seoul will involve Ultron "laying parts of the city to waste." Another will have him trying to obtain cutting edge technology from a Korean IT institute.
The Marvel sequel has already shot scenes in Johannesburg, South Africa, and destroyed (on camera, not in reality) a good chunk of Aosta, Italy. As a New Yorker, I'm just excited to see some other cities sharing in the supervillain-inflicted pain for once.
Avengers: Age of Ultron opens May 1, 2015.