New 'Amazing Spider-Man 2' Images Spell Trouble For Gwen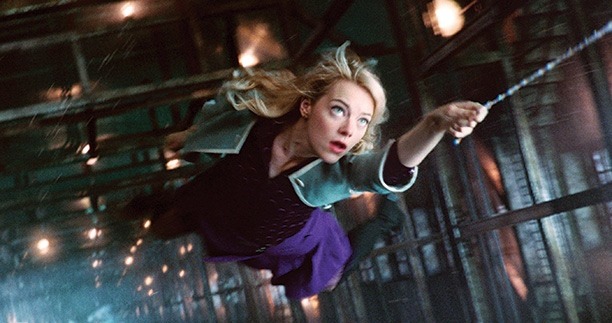 We knew Spidey (Andrew Garfield) was going to have his work cut out for him in the next movie, what with not one, not two, but three villains gunning for him. But a new batch of Amazing Spider-Man 2 images suggest that there's big trouble toward Gwen (Emma Stone) as well.
Elsewhere, the photos offer fresh looks at the Green Goblin (Dane DeHaan) on his glider, Paul Giamatti in his Rhino suit, and Stan Lee looking dapper on set. Get an eyeful after the jump.
Yes, that's Stone wearing the same outfit Gwen Stacy wears in the comics when you-know-what happens (beware major spoilers at the link). And yes, Green Goblin appears to be making a beeline toward her. Odds are, it's not because he wants to give her a friendly high-five. Comic book fans have very good reason to be concerned for her.
But Stone cautions Spideyholics not to believe everything they read on the Internet. "There are things that I know about that haven't been seen yet. There are also things that people are speculating on that I know aren't true," she teased. "There will be surprises." For Gwen's sake, let's hope so.
The Amazing Spider-Man 2 opens May 2.
We've always known that Spider-Man's most important battle has been within himself: the struggle between the ordinary obligations of Peter Parker and the extraordinary responsibilities of Spider-Man. But in The Amazing Spider-Man 2, Peter Parker finds that a greater conflict lies ahead.
It's great to be Spider-Man (Andrew Garfield). For Peter Parker, there's no feeling quite like swinging between skyscrapers, embracing being the hero, and spending time with Gwen (Emma Stone). But being Spider-Man comes at a price: only Spider-Man can protect his fellow New Yorkers from the formidable villains that threaten the city. With the emergence of Electro (Jamie Foxx), Peter must confront a foe far more powerful than he. And as his old friend, Harry Osborn (Dane DeHaan), returns, Peter comes to realize that all of his enemies have one thing in common: OsCorp.