'Begin Again' Trailer: Mark Ruffalo And Keira Knightley Make Sweet Music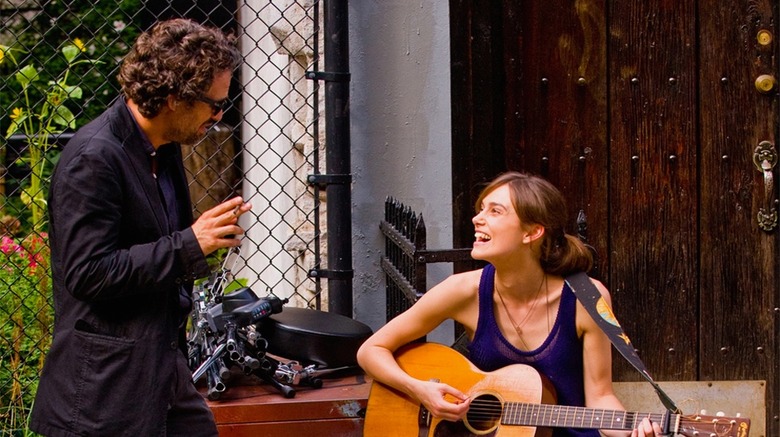 Once was one of the real gems of 2007, a delicate love story about two people brought together by music. Based on the new Begin Again trailer, director John Carney seems to be trying to repeat the trick in 2014, only on a larger scale with bigger stars.Mark Ruffalo plays a washed up record exec who has just about hit rock bottom — that is, until he chances upon a freshly dumped musician (Keira Knightley) who's also feeling adrift. The two strike up a collaboration that takes them all over New York City. Music is so central to this film, it was originally titled Can a Song Save Your Life?. Watch the trailer after the jump.Begin Again looks sweet and sincere, if a bit too cute. But then again, Once's charms weren't the kind that could be conveyed easily by a trailer, either. Ruffalo and Knightley make for a charming duo, and as a New Yorker I've got a soft spot for films that use my fair city well.
The Weinstein Co. has Begin Again set for a July 4 release. Hailee Steinfeld, Catherine Keener, CeeLo Green, James Corden, Mos Def, and Adam Levine also star.
Written and directed by John Carney, Begin Again is a soul-stirring comedy about what happens when lost souls meet and make beautiful music together. Gretta (Keira Knightley) and her long-time boyfriend Dave (Adam Levine) are college sweethearts and songwriting partners who come to New York when he lands a deal with a major label. His new-found fame soon tempts Dave to stray, leaving a reeling, lovelorn Gretta on her own. Her world takes a turn for the better when Dan (Mark Ruffalo), a disgraced record-label exec, stumbles upon her performance in the East Village and is immediately captivated by her raw talent. From this chance encounter emerges a mutually transformative collaboration set to a summer in New York City soundtrack.