'Community' Movie Talk Raises Hopes Of "Six Seasons And A Movie" Fulfillment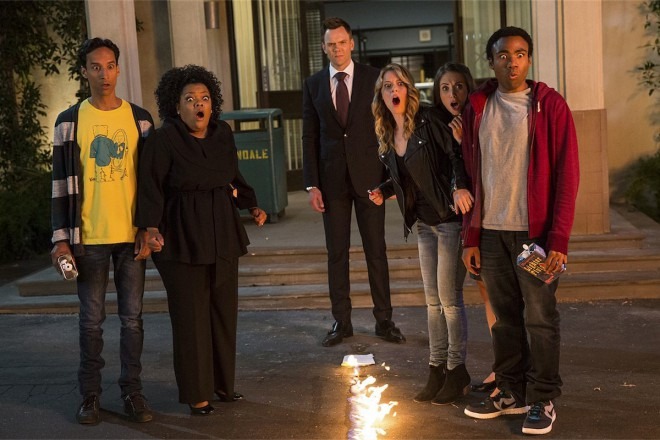 Is the old Community mantra, "six seasons and a movie," actually going to work? the phrase was written into the second season of Community as a joke, but became a rallying cry for fans as the show struggled in ratings through the third season. Then there was the sub-par fourth season (produced without series creator Dan Harmon) and Harmon's triumphant return with a fifth season that recaptured the show's vibe, earned strong notes from critics, and held steady with a constant viewership. Now there's talk of a sixth season, and it seems as if the Community movie isn't even destined to exist only as a punchline.
TV Guide reports that a sixth season is looking likely, quoting optimistic "NBC and Sony insiders." Granted, that likelihood may be based more in the fact that NBC hasn't done well establishing other new comedies, rather than became of a great love fgor Community. But whatever, we'll take it. And if NBC doesn't want the show, Harmon says that other avenues would likely be explored, including a streaming outlet such as Hulu.
And then there's the film. The mag also says that movie talk is going on, at least in low murmurs, with occasional episode director Justin Lin floated as a directorial hopeful. Lin being incredibly busy, there could be other options. Anthony and Joe Russo have also served as exec producers and directors for the show, but they're going to be red-hot once their film Captain America: The Winter Soldier opens. Soon they won't be easy to lock down. But other hurdles have to be cleared first; there has to be money for a film, before there's a director.
And while not everything Dan Harmon wants comes true (the guy did lose his show for a year) Harmon told HitFix,
If the movie has to be made out of clay and duct tape in my basement, then that's how the movie will be made, because there has to be closure. The title of the book about the show is not Community, An Interesting Journey into a Show No One Ever Watched. The title of the book is obviously going to be, Six Seasons and a Movie.
What about the return of actors Donal Glover (who left after five Season 5 episodes) and Chevy Chase, who bailed earlier? We don't know about Glover; of Chase Harmon said,
I love Chevy. I think he loves me. I don't think he's capable of expressing love in a way that satisfies most people, but we text each other dirty jokes and call each other a**holes on a regular basis. I would love to work with him again; he's a constant singularity of humanity.