'Jupiter Ascending' Trailer 2: Channing Tatum And Mila Kunis Expand Your Universe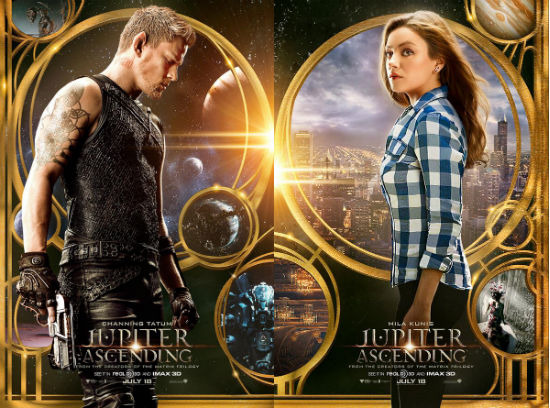 The second full Jupiter Ascending trailer is now online.
It's the latest sci-fi spectacle from Lana and Andy Wachowski, the writer and director siblings who previously tackled the genre in The Matrix Trilogy, Speed Racer and Cloud Atlas. This time they've got Channing Tatum protecting a princess played by Mila Kunis in what seems to be one of the most unique looking sci-fi films in recent memory. Will it live up to those huge expectations? Check out the second Jupiter Ascending trailer below.
Thanks to Warner Bros. for the trailer.
I mean – come on. That looks awesome, doesn't it? Sure it's incredibly effects heavy, potentially to a fault, but the scope of the action and the vision of the filmmakers is kind of stunning. Plus, don't forget this isn't an adaptation of some comic book or YA novel. No, Jupiter Ascending is an original sci-fi adventure from the mind of the Wachowskis, something that can't be said for their last two films. Before that, they did a pretty decent job with original sci-fi, I think.
Jupiter Ascending co-stars Sean Bean, Eddie Redmayne, Douglas Booth, Tuppence Middleton, Doona Bae, James D'Arcy, Richard Pickren and Tim Pigott-Smith. It opens in 2D, 3D and 3D IMAX on July 18.
Jupiter Jones (Mila Kunis) was born under a night sky, with signs predicting that she was destined for great things.  Now grown, Jupiter dreams of the stars but wakes up to the cold reality of a job cleaning toilets and an endless run of bad breaks.  Only when Caine (Channing Tatum), a genetically engineered ex-military hunter, arrives on Earth to track her down does Jupiter begin to glimpse the fate that has been waiting for her all along – her genetic signature marks her as next in line for an extraordinary inheritance that could alter the balance of the cosmos.