Sequel Bits: 'Transformers 4', 'Ninja Turtles', 'Taken 3', 'Jurassic World'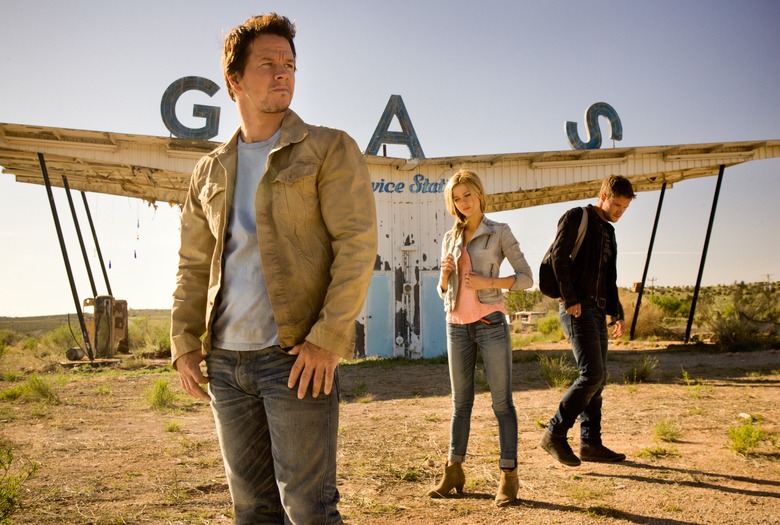 If I asked you to name the most iconic movie franchise of all time, would you say Transformers? Mark Wahlberg would — and he's pretty sure the new one will be the biggest film of 2014. Also after the jump:
Transformers 4

will use the Dolby Atmos sound system
Ninja Turtles, Minions, and more are getting special 3D glasses
Dwayne Johnson says Jon M. Chu won't be back for G.I. Joe 3
Lego Movie co-financer will not be asked back for the sequel
Get updates on the Dark Crystal and Fraggle Rock movies
Leland Orser, of Taken and Taken 2, will return for Taken 3
Neal McDonough will be the bad guy in Paul Blart 2
Jurassic World is looking for extras in Louisiana
"For moviegoers all over the world, I guarantee this will take it up a notch," he said. "It is bigger and better than the other three (films) combined." In Wahlberg's defense, he has reason to be optimistic. The last Transformers grossed $1.1 billion worldwide to become the second-highest grossing film of 2011. [Yahoo]
Speaking of Transformers: Age of Extinction, director Michael Bay has reiterated at this year's Cinema Con that the film will use Dolby's Atmos Surround Sound System — just as he confirmed at last year's Cinema Con. [TFW2005]
And while you're listening to the movie's cutting-edge sound mix, you'll be watching it through an extra-special lens. A new photo from Cinema Con shows off the custom 3D glasses for Transformers: Age of Extinction, as well as ones for Teenage Mutant Ninja Turtles, SpongeBob SquarePants 2, and Minions.
Transformers: Age of Extinction opens June 27, followed by TMNT on August 8, SpongeBob on February 13, 2015, and Minions on July 10, 2015. [Collider]
Director Jon M. Chu revealed last week that he would be moving ahead with Jem before turning his attention back to G.I. Joe 3. But now, star Dwayne Johnson says he doesn't think Chu will be back in time for Joe's planned January start.
"Well, the idea is that we would start shooting G.I. Joe in January, in the first quarter of next year. That's the idea," Johnson said. " Look, I love Jon, and I think he did a great job. I get it. He had to go on and do something else."
While Johnson acknowledged that Chu "could be" done with Jem by then, he didn't sound too confident. He added that they were "still looking" for a G.I. Joe 3 director. [Collider]
Although The Lego Movie was a big, big smash for Warner Bros., the studio didn't make as much money off of it as it would have liked. Mainly, that was because Village Roadshow Pictures picked up about 50% of the tab for making and marketing the movie — meaning Village Roadshow also got about 50% of the profits.
Warner Bros. originally arranged the split because of a lack of confidence in The Lego Movie, but now sees the move as "a big mistake." It's one they won't be making again. According to an insider, Village Roadshow will not be asked to help finance the sequel. [THR]
The long-gestating Dark Crystal sequel is still coming along, as revealed by Brian Henson in a recent interview. "We have one written. It's really good," he said. However, you shouldn't necessarily expect it to come together quickly. "We don't have a production schedule or anything. It's a big movie to put all the pieces together."
Indeed, Henson adds, Fraggle Rock could actually move forward sooner. "Fraggle Rock is still in development, but the development is looking very strong, where Dark Crystal is mostly developed," he explained. "Fraggle Rock might go faster because it's not as big an undertaking."
Henson was far less forthcoming about the planned Farscape film. "I can't tell you anything. That one is pretty secret," he said. [Variety]
Liam Neeson, Famke Janssen, Maggie Grace, and Jon Gries are all coming back for Taken 3, and now so is Leland Orser. The actor has signed on to reprise his role as Sam, friend and ex-colleague to Neeson's Bryan Mills. Taken 3 starts shooting this month for release on January 9, 2015. [Deadline]
Paul Blart: Mall Cop 2 has found its villain. Neal McDonough is in final talks to play a criminal who masterminds an elaborate art heist that catches the attention of Kevin James's Paul Blart character.
Initially, the casino security team makes fun of Paul, but eventually they need his help to catch the bad guys. Also in the cast are Nick Turturro and Molly Shannon. Andy Fickman is directing the comedy sequel, which shoots in April. [THR]
Live in the South and have an affinity for dinosaurs? Jurassic World is looking for "thousands" of paid extras in Metairie, LA, with casting calls to be held on March 29 and March 30.
All sorts of people are needed — men and women of any ethnicity, between the ages of 5 and 85. The sci-fi sequel is filming this summer for a June 12, 2015 premiere. For more details, visit On Location Vacations.