First U.S. 4D Theater Coming To Los Angeles; Watch A Video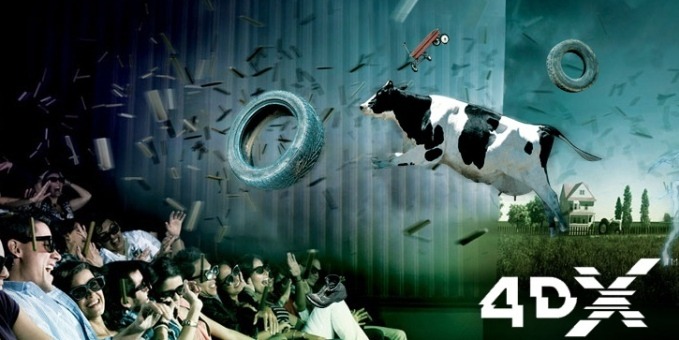 Just when you thought 3D was overplayed, 4D theaters are on the way. The Korean company CJ 4DPlex has just signed a deal to install the United States' first 4DX theater into the Regal Cinemas L.A. Live Stadium 14 in downtown Los Angeles, CA. 4D adds physical sensations to 3D films, in the form of "motion, wind, strobe, fog, mist, rain and 'scent-based' effects." For the past few years, several movies have been getting 4D experiences, including the upcoming titles Captain America: The Winter Soldier, Noah and How to Train Your Dragon 2.
The Hollywood Reporter wrote about this news out of CinemaCon. Apparently, the 4D theater will be a small addition to the Regal theater, seating only about 100 people. The aim is to open in June or July 2014. They have yet to decide how much more the 4DX experience will cost.
While this is the first U.S. theater for CJ 4D Plex, they already have a stronghold on the market globally. Currently, the company has 91 theaters in 23 countries including China, Chile, Hungary, Japan, Vietnam and India. Plus, you'd never know it since the U.S. doesn't have any of these theaters, but almost 60 movies were given the 4D treatment in the past year including the Hollywood hits Gravity, Frozen, Iron Man 3 and The Hobbit: The Desolation of Smaug.
CJ 4DPlex isn't the only company in the 4D game, though. MediaMation and D-Box also have theaters across the world. D-Box in particular is already in hundreds of theaters in the U.S. but they only offer a seat with motion. Also, those seats are just added into normal theaters, offering only select audience members a 4D experience. It sounds like 4DPlex is a full theater experience where every seat would enjoy 4DX. Here's a video:
In Los Angeles, the Disney-owned El Capitan Theatre does the occasional 4D screening, most notably with The Nightmare Before Christmas every October. There are holiday themed lights all around the sides of the theater, smoke effects, falling snow and more. It's a really fun experience. However, I'm not sure it's how I'd want to see a movie like Gravity for the first time.
Have you ever been in a 4D theater?