First 'Jupiter Ascending' Posters Feature Channing Tatum And Mila Kunis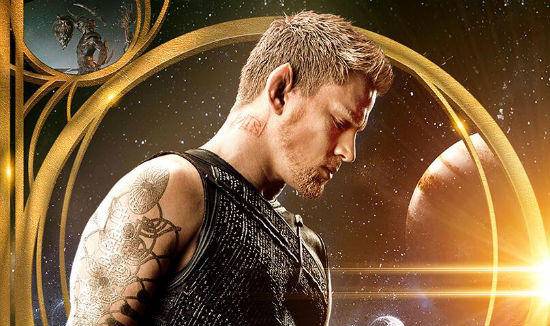 The first Jupiter Ascending posters have been revealed mere hours before the second trailer. The posters feature Channing Tatum as as alien wolfman hybrid who is tasked with Earth to retrieving a cleaning lady from Earth, ignorant of the fact she's a space princess. She's played by Mila Kunis.
Written and directed by Lana and Andy Wachowski, the team behind The Matrix trilogy and Cloud Atlas, Jupiter Ascending opens July 18. The second trailer hits Wednesday evening but, for now, pore over these beautifully detailed Jupiter Ascending posters.
Thanks to Warner Bros. for the posters.
Warner Bros. uploaded the Channing Tatum poster first, and we quickly added the Kunis. Together it makes for a really beautiful package. Pay special attention to the aliens and tech in each of the corners. Plus, that gun Tatum is holding; it's Blade Runner-esque. All of this suggests a much, much bigger world. Coming from the Wachowskis, that's really exciting.
Jupiter Ascending co-stars Sean Bean, Eddie Redmayne, Douglas Booth, Tuppence Middleton, Doona Bae, James D'Arcy, Richard Pickren and Tim Pigott-Smith. Check back later this evening for the next Jupiter Ascending trailer and then see the latest movie from the Wachowski siblings on July 18.
Jupiter Jones (Mila Kunis) was born under a night sky, with signs predicting that she was destined for great things.  Now grown, Jupiter dreams of the stars but wakes up to the cold reality of a job cleaning toilets and an endless run of bad breaks.  Only when Caine (Channing Tatum), a genetically engineered ex-military hunter, arrives on Earth to track her down does Jupiter begin to glimpse the fate that has been waiting for her all along – her genetic signature marks her as next in line for an extraordinary inheritance that could alter the balance of the cosmos.