Real-Life Couple Chris Pratt And Anna Faris Will Be 'Vacation Friends'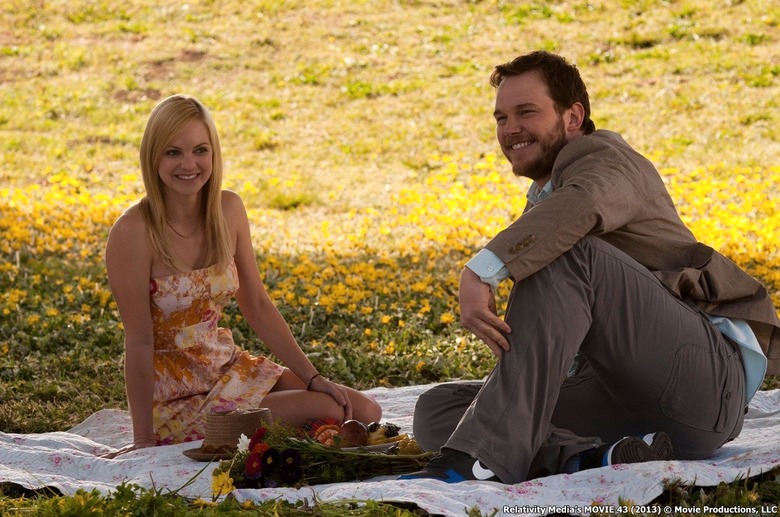 By the end of next year, Chris Pratt will have played a Lego minifig, an outer-space superhero, and a dinosaur expert. But one of his next roles after that should hit a lot closer to home.
Pratt and his real-life wife Anna Faris are attached to star as a couple in Vacation Friends. The comedy is described as "What About Bob? with a couple," with Pratt and Faris' crazy duo as the Bob. Get all the details after the jump.
The plot centers on a wild couple (Pratt and Faris) who meet a more straitlaced couple while on vacation in Mexico. The two pairs hit it off, and have a blast together all week. The trouble starts when the more normal couple returns home. Pratt and Faris's characters are eager to keep the party going, and won't leave them alone.
Pratt is in the middle of a white-hot streak. He voiced the lead in February's The Lego Movie, which turned out to be a huge hit, and will star this summer in Marvel's Guardians of the Galaxy. He's also gearing up to shoot Jurassic World, which opens next year. Meanwhile, he continues to appear in NBC's Parks & Recreation as lovable doofus Andy Dwyer.
Faris isn't doing so badly herself. Her CBS sitcom Mom, which also stars Allison Janney, was recently renewed for a second season. The plan is to shoot Vacation Friends later this year, while Mom and Parks & Recreation are both on hiatus.
Pratt and Faris aren't new to working together. In fact, they first met when they co-starred in Take Me Home Tonight. Since then, they've appeared together in What's Your Number?, Movie 43, and a 2012 episode of Top Chef.