'Tucker And Dale Vs Evil 2' Officially In Development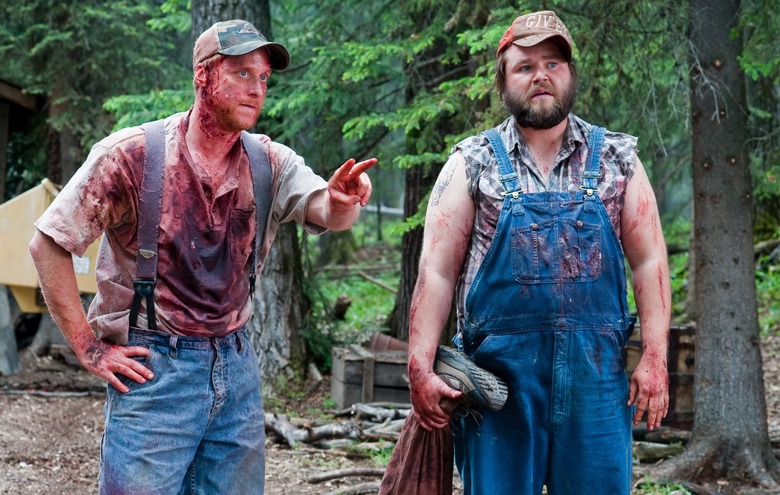 Tucker and Dale Vs Evil 2 is officially on the way. At a recent horror convention, stars Tyler Labine and Alan Tudyk announced that producers recently contacted them to say a sequel to the 2010 original is currently in development.
Labine and Tudyk made the Tucker and Dale Vs Evil 2 announcement at Horrorhound in Cincinnati, OH this past week. Thanks to Bigger Show for the video.
In that clip, Labine and Tudyk joke about the fact they didn't think Tucker and Dale vs Evil 2 would ever happen, and even said so in a few interviews. That's when the producers sent them an email:
We have an outline, we're honing in on who we want to write it, we really want to make another one.
And while that might not sound particularly official, Tudyk noted the fact that quote came from the producers, and not a director, makes it pretty solid.
Labine also says he and Tudyk are fiercely protective of the property and "We'll never make a shitty sequel." In theory that means, while producers may want the film, the actors won't attach themselves until the script is up to par. And since the script doesn't even have a screenwriter attached yet, this movie is well down the road.
The first Tucker and Dale Vs. Evil was a gory, crowd-pleasing festival darling that didn't have a huge theatrical run, but enjoys a cult following on home video. Here's the official description:
Tucker and Dale are two best friends on vacation at their dilapidated mountain house, who are mistaken for murderous backwoods hillbillies by a group of obnoxious, preppy college kids. When one of the students gets separated from her friends, the boys try to lend a hand, but as the misunderstanding grows, so does the body count.
Are you excited for the possibility of Tucker and Dale Vs Evil 2? What would the story contain?