The Rock Teases DC Comics Film Role Possessed Of "A Superman Level Of Power"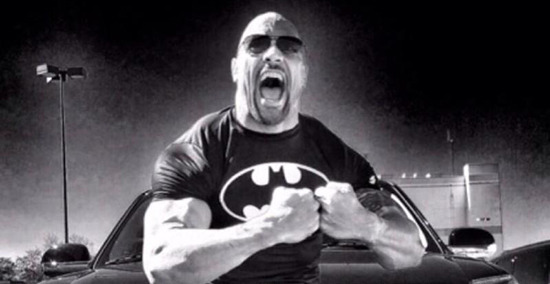 Dwayne "The Rock" Johnson was, many years ago, tied to a Shazam film, to play the villainous Black Adam. He's also been connected to a big-screen adventure starring the character Lobo. Neither project went anywhere; both have seemed more or less dead in the past couple years. But during his promotion of Hercules, The Rock teased a DC Comics project, and his description sounds like it could be one of those two characters.
In a Twitter Q&A session this morning, The Rock followed up his previous DC movie tease by saying,
Myself & DC have agreed on a character.. extremely complex, well known (but never played) and a pure BAD ASS MF;) #RockTalk .@ThomasEspin

— Dwayne Johnson (@TheRock) March 25, 2014
He later added:
Green Lantern (John Stewart) and Black Adam are my fav superheroes, but GL's already been made and stamped. #RockTalk @CFitzyy

— Dwayne Johnson (@TheRock) March 25, 2014
He reiterated more or less the same thing in more private fashion to a few journalists yesterday at CinemaCon in Vegas.
ComingSoon has the quotes:
Like everyone here in the room, I love superheroes, and we've been having ongoing discussions, myself and DC, for years about the right character. What would the right character be? And that's another thing, too. It just had to be right. I won't tell you who it is, but I'll tell you the three qualities we're looking for and I'll let you guys figure it out, This is going to be fun. Here are the three qualities:
The first quality we were looking for is that he had to be extremely complex and have a lot going on and what that does for me as an actor and for the studio, just gives us space that we can explore his complexities. The other quality is that the character we were looking for had to be well known but never brought to life. That does, again as an actor, is that it gives me a little bit of space and it just gives me a chance to put an imprint into his personality with the set of tools that I can bring to the table and put a very unique twist on his personality but still pay homage to who he is. The third thing and most important is that he had to be a badass mother***ker and on a Superman level of power where he could throw down. In those three qualities, I'm happy we've found that character and right now we're out to a lot of writers.
So there you go — based on that talk it sounds as if the Rock is again tied to either Black Adam or Lobo. Black Adam seems more likely, all things considered, and more like a character that could fit into whatever DC Universe WB is building on screen.