'Maleficent' Japanese Trailer: Lurking In The Shadows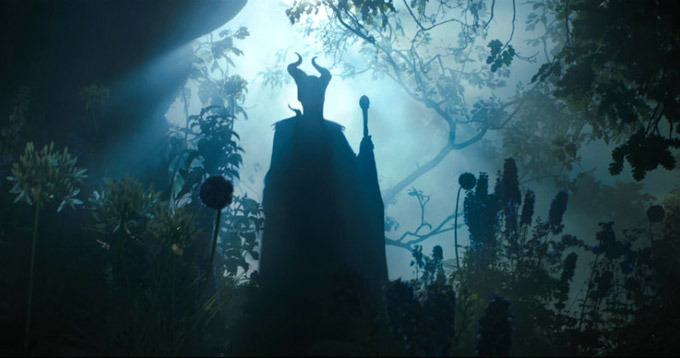 The movie may be called Maleficent, but it's really a spin on the classic Sleeping Beauty fable. And the new Maleficent Japanese trailer is all about Sleeping Beauty — both the character and the 1959 Disney movie about her.
The promo establishes its connection to the earlier film right away, showing us clips of the animated film. Then, with the help of some new footage, it emphasizes the weird bond that develops between Maleficent (Angelina Jolie) and the child she's doomed (played by Elle Fanning as a teen). Watch it after the jump.
It'll be interesting to see how Maleficent stacks up against Disney's other live-action fairy tales, namely Alice in Wonderland and Oz The Great and Powerful. The look is very similar — no surprise there, seeing as Maleficent director Robert Stromberg served as the production designer on both of those films — but Maleficent seems to boast a better, more interesting story. That's just my opinion, though; I know you'll let me know in the comments if you vehemently disagree.
Maleficent arrives in theaters May 30.
"Maleficent" explores the untold story of Disney's most iconic villain from the classic "Sleeping Beauty" and the elements of her betrayal that ultimately turn her pure heart to stone. Driven by revenge and a fierce desire to protect the moors over which she presides, Maleficent cruelly places an irrevocable curse upon the human king's newborn infant Aurora. As the child grows, Aurora is caught in the middle of the seething conflict between the forest kingdom she has grown to love and the human kingdom that holds her legacy. Maleficent realizes that Aurora may hold the key to peace in the land and is forced to take drastic actions that will change both worlds forever.