There's A New Cheech And Chong Movie On The Way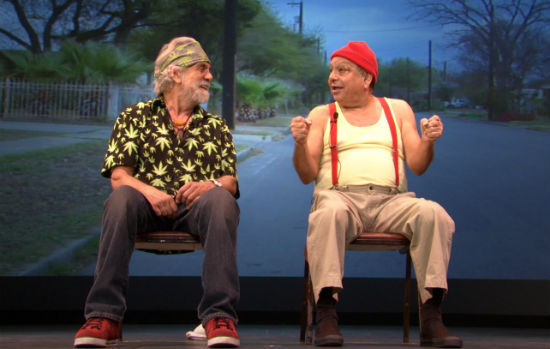 Tommy Chong says a new Cheech and Chong movie is on the way. Speaking to CelebStoner.com, because why not, one half the legendary comedy duo said Jay Chandrasekhar, one of the members of Broken Lizard and director of Super Troopers and Beerfest, is currently writing the script that will send Chong and partner Cheech Marin to a pot festival.
News of the new Cheech and Chong Movie broke on CelebStoner.com, via Hollywood Reporter:
[Jay Chandrasekhar] is working a script right now for us. We've had some preliminary meetings. It looks really good. It looks really funny. It will be about us going to a festival called the Burning Joint. All sorts of shenanigans happen. It's going to be a lot of fun.
He then added:
They came at us with a rough idea and now they're fleshing it out and making it into a budgetable script. We could start shooting this summer.
Cheech and Chong were some of the biggest stars in the world in the late Seventies/early Eighties before spending the next few decades apart. Their last official movie was 1983's Still Smokin', before reuniting in 2008 for a tour and a few other projects. One of those projects was an animated movie. However that movie was just a visual representation of the duo's old comedy albums and didn't involve any real writing or participation.
Chandrasekhar is just about the perfect person to help bring Cheech and Chong back to the big screen. He and his Broken Lizard friends have made a name for themselves on the type of R-rated, over the top comedies Cheech and Chong themselves made popular in the Seventies and Eighties. Plus, Broken Lizard promised fans a film called "Potfest" at the end of their 2006 comedy Beerfest, and have yet to deliver.
As popular as Cheech and Chong were, their viability in this century is interesting. On one hand, we live in a world were pot is more accepted than ever. On the other hand, they're 70-year-old men who were at the height of their popularity over thirty years ago.Do you think a new Cheech and Chong movie is a good idea?