'Captain America 2' Behind The Scenes: See 16 Minutes Of Footage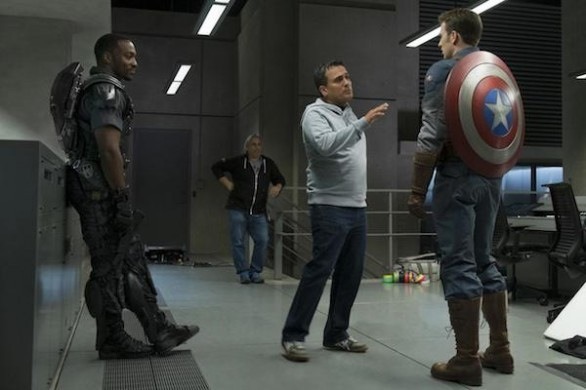 You, Me and Dupree directors Joe and Anthony Russo seemed like totally unexpected picks when they were tapped to helm Captain America: The Winter Soldier, but by all accounts they've exceeded all expectations. So how did they do it? Maybe 16 minutes of Captain America 2 behind-the-scenes material can offer some clues. Check it out after the jump.
It never fails to amuse me how unglamorous these movies look during the shooting process. Captain America running down the street looks powerful and heroic. Chris Evans playing Captain America running down the street just looks kinda silly. That goes double for shots of Captain America wielding his famous shield.
The much cooler-looking version of this footage — that is, the final cut of Captain America: The Winter Soldier — hits theaters April 4.
After the cataclysmic events in New York with The Avengers, Marvel's "Captain America: The Winter Soldier" finds Steve Rogers, a.k.a. Captain America, living quietly in Washington, D.C. and trying to adjust to the modern world. But when a S.H.I.E.L.D. colleague comes under attack, Steve becomes embroiled in a web of intrigue that threatens to put the world at risk. Joining forces with the Black Widow, Captain America struggles to expose the ever-widening conspiracy while fighting off professional assassins sent to silence him at every turn. When the full scope of the villainous plot is revealed, Captain America and the Black Widow enlist the help of a new ally, the Falcon. However, they soon find themselves up against an unexpected and formidable enemy—the Winter Soldier.