Pee-Wee Herman Movie Is "Pretty Close," Says Judd Apatow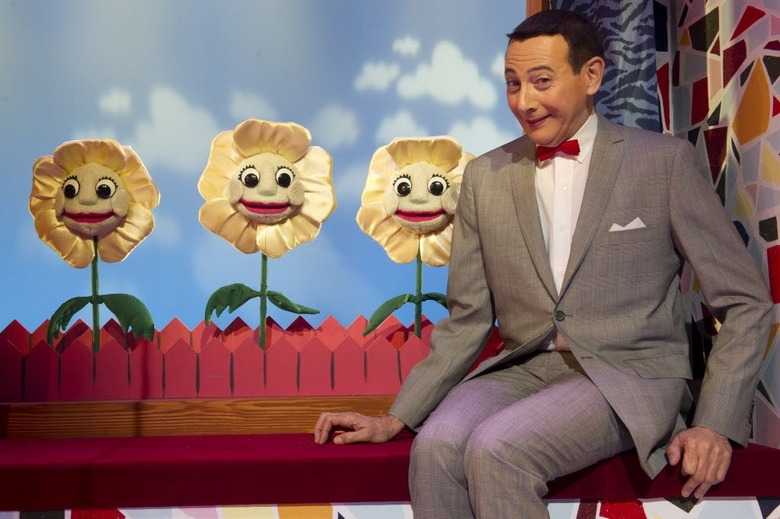 For the past few years, we've been getting updates on the Pee-Wee Herman movie every so often. Mostly, they've just been reassurances that yes, the movie is still in the works. But the wait may be nearing an end. According to producer Judd Apatow, the feature is "pretty close" to coming together. Hit the jump for the latest dirt on the Pee-Wee Herman movie.
We've kicked around a couple of titles. Pee-wee takes a Holiday — that was one of them. But we have a great script that he wrote with a friend of mine, Paul Rust and I think we're probably going to get to do that soon.
"Soon" is a pretty vague word, but it's more promising than "later" or "eventually" or "somewhere down the line." As of last summer, Pee-Wee Herman himself, Paul Reubens, was telling press that the script and financing were already in place, and that a director had already been chosen. Whom that filmmaker is has not yet been revealed, however.
The wording of THR's article suggests that Apatow himself may direct it ("Apatow says he's directing Amy Schumer's film Trainwreck [...] and a film written by Paul Reubens and Paul Rust, tentatively titled Pee Wee Takes a Holiday," they write) but for the moment, he's only confirmed to produce.
Moreover, if Apatow is indeed directing, "soon" could mean "in another year or two." He's already committed to making the aforementioned Trainwreck as his next directorial effort. Since that movie already has a summer 2015 release date locked in, he doesn't have much wiggle room in terms of scheduling.
On the other hand, if they've settled on a different director, there would theoretically be no reason to wait. Reubens' prediction that shooting could get underway in 2014 could turn out to be true. In that case, expect to hear some big updates soon.