Exclusive 'Enemy' Behind The Scenes Images Featuring Jake Gyllenhaal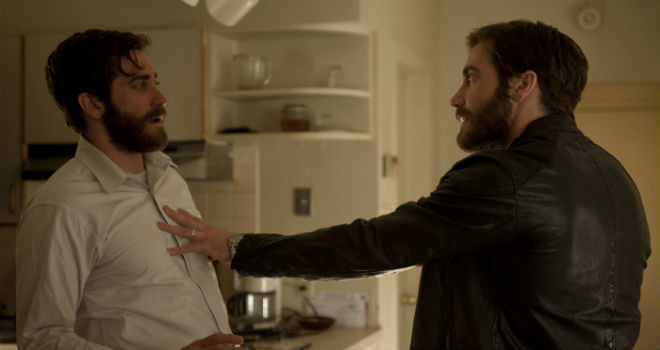 Denis Villeneuve's latest film, Enemy, is not for everybody. Starring Jake Gyllenhaal as a simple college professor who realizes there's another man who looks just like him, the film is way more complex than it seems. It's atmospheric, captivating and wholly engaging. From the first minute, it slowly feeds you fascinating information until a mind-blowing, very odd conclusion. Enemy is one of those movies you can't wait to discuss after you see it. Then, the more you talk about it, the better it becomes.Enemy opened in limited release last week and expands today into theaters in Atlanta, Baltimore, Chicago, Dallas, Los Angeles, Nashville and many others. To celebrate the expansion of this mind-expanding film, A24 Films has given us two cool, behind the scenes images to premiere. You'll see Gyllenhaal, Villeneuve and more. Check them out below.
Here are the two exclusive images.
After walking out of Enemy, I knew I'd really enjoyed it but was very thrown off. While it starts as an Alfred Hitchcock film, it eventually becomes something David Lynch would do and then something even more odd. Villeneuve's pacing and Gyllenhaal's performance give the film great momentum and every second, you're trying to figure the whole thing out. There's so much to like here, even though it's one of those films people are immediately going to hate on because it's not easily accessible.
For a full list of theaters where Enemy is currently playing, which also includes theaters in Washington DC, St. Louis, Seattle, Raleigh, Cleveland, Buffalo, Boise and others, visit this site. Here's the official plot description:
Adam Bell is a glum, disheveled history professor, who seems disinterested even in his beautiful girlfriend Mary. Watching a movie on the recommendation of a colleague, Adam spots his double, a bit-part actor named Anthony Clair, and decides to track him down. The identical men meet and their lives become bizarrely and irrevocably intertwined. Gyllenhaal is transfixing as both Adam and Anthony, provoking empathy as well as disapproval while embodying two distinct personas.