'Night Moves' Trailer: Jesse Eisenberg Fires Up A Revolution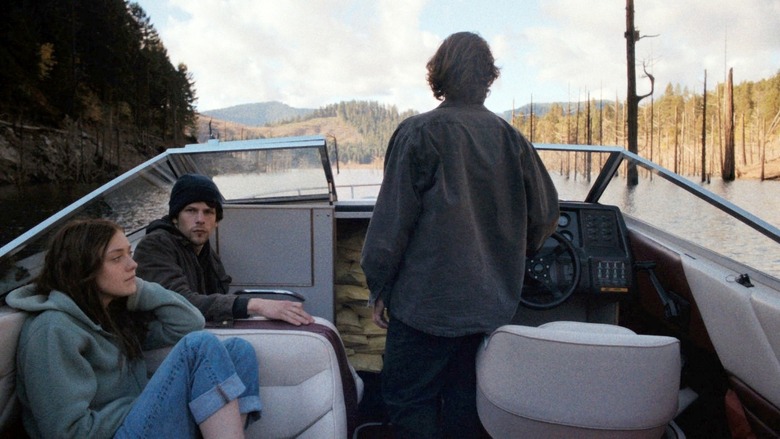 Following well-received debuts at Toronto and Venice last fall, Kelly Reichardt's Night Moves is now gearing up for a theatrical release. The thriller stars Jesse Eisenberg and Dakota Fanning as a couple of young environmentalists who go a little extreme for their cause — like, blowing up a dam extreme — and then have to deal with the consequences. Peter Sarsgaard also stars, as explosives expert who's also involved in the plot.
The first Night Moves trailer has just hit the web, and you can watch it after the jump.
Reichardt is known for putting out spare, minimalist dramas like Wendy and Lucy and Meek's Cutoff, so a taut thriller is just about the last thing her fans would've expected from her. But reviews from the festival circuit indicate that she manages to put her own unique stamp on the genre.
THR approvingly noted that "working with a name cast and more conventional narrative in no way compromises the director's strengths: The detached yet compassionate gaze; the penetrating access to her characters' despair; the seemingly casual attention to small but illuminating details; the indelible sense of place; the gracefully controlled camerawork."
The Playlist was similarly enamored, calling it "the perfect reminder that Reichardt is one of the most exciting directorial talents we have right now." Stars Eisenberg, Fanning, and Sarsgaard received praise from several corners as well.
But the most frequent complaint was that the ending didn't quite work. Variety wrote that the film "might have been close to perfect had it clocked in at a tight 80 minutes or so, rather than pushing on for another half-hour, and Thompson on Hollywood found that although Night Moves was "Reichardt's most accessible film to date," it "loses too much narrative impetus towards the end for it to fully engage with mainstream audiences."
Cinedigm has Night Moves scheduled for release on May 30.