'Jurassic World' Casts 'X-Men' Star Omar Sy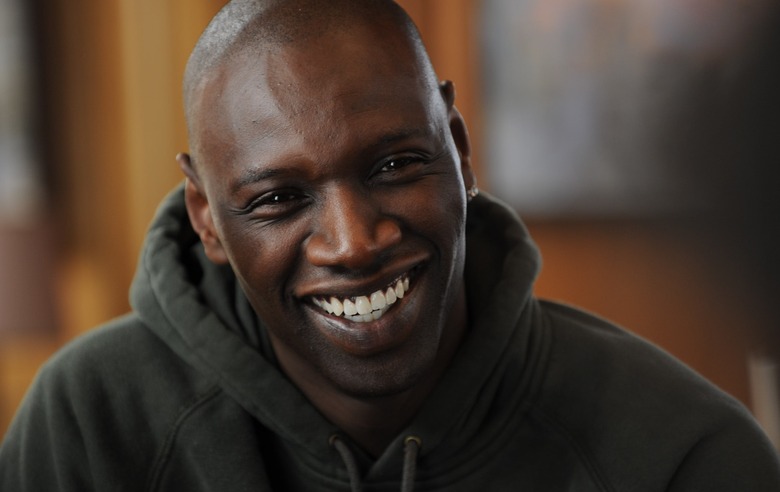 Jurassic World may not be bringing back much of the old cast, but the new cast is looking so good it's tough to complain. French actor Omar Sy is the latest exciting addition to a roster which already includes Chris Pratt, Bryce Dallas Howard, and many more. He's known for his breakthrough turn in The Intouchables, and his upcoming role in X-Men: Days of Future Past.
Fan of this saga from the beginning, I'm very proud to be part of the cast for JURASSIC WORLD #jurassicworld @UniversalPics @colintrevorrow

— Omar Sy (@OmarSy) March 21, 2014
There's also a French version of the announcement, if you prefer that.
Fan de cette saga depuis le début, je suis très fier de rejoindre le casting de JURASSIC WORLD #jurassicworld @UniversalPics @UniversalFR

— Omar Sy (@OmarSy) March 21, 2014
Director Colin Trevorrow confirmed the casting on his own Twitter account.
Très heureux d'accueillir @OmarSy dans Jurassic World. @JurassicParkFR

— Colin Trevorrow (@colintrevorrow) March 21, 2014
In addition to Sy, Pratt, and Howard, Jurassic World also stars Irrfan Khan, Vincent D'Onofrio, Nick Robinson, Ty Simpkins, Jake Johnson, and BD Wong. Trevorrow and Derek Connolly wrote the script to the 3D sequel. Steven Spielberg, Frank Marshall, and Pat Crowley are producing. Specifics on Sy's role have not been revealed. Outlets are reporting that Idris Elba has joined the cast, but we have confirmed that is merely a rumor with no basis in fact.
Sy has been working in his native France for over a decade, but began getting international attention a few years back after his César-winning performance in The Intouchables. Now he seems to be on the verge of breaking out in the U.S. with a prominent role in this summer's X-Men: Days of Future Past as fan favorite mutant Bishop. Additionally, he recently wrapped the James Franco thriller Good People and is attached to star in Stephen Gaghan's Candy Store.
Plot details on Jurassic World are being kept under wraps for now, but we know it'll be a sequel set two decades after the events in Jurassic Park. Trevorrow has described Pratt's character as being "a classic hero in a very modern context, whereas Howard's character "starts off very corporate, very controlled." D'Onofrio is expected to play the villain.
Jurassic World arrives June 12, 2015, 22 years after the original Jurassic Park debuted and 13 years after the last installment, Jurassic Park III, was released.