'Dumb And Dumber To' Teaser Posters: Suitable Promotion For The Comedy Sequel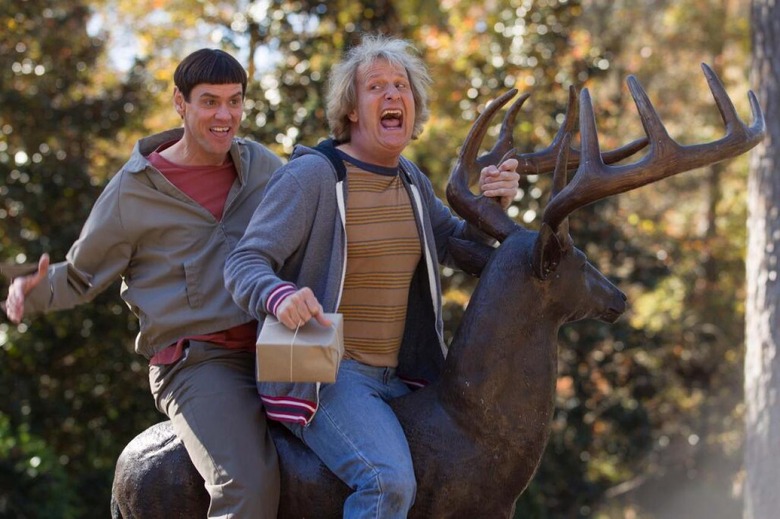 Apparently, Dumb and Dumber To is good. That's the buzz coming off the film's first test screening earlier this month. And not just from the people who tweet, either. I've heard from people I know and trust who snuck their way into that screening, the Farrelly Brothers are back with a gross-out comic romp worth of their best films.
The best part of that is the film doesn't come out for eight months, which means the Farrellys have more than enough time to tinker and get people ready for the triumphant return of Harry (Jeff Daniels) and Lloyd (Jim Carrey) on November 14. The first part of that promotion was just revealed, in the form of a pair of teaser posters on the film's official Dumblr page. Yes, you read that right. Dumblr. Check them out below.
These come from the Dumb and Dumber To official site, Dumblr.com.
They also revealed the official logo.

I like the fact they're evoking some of the film's now iconic imagery to start and get people interested. There's a good chance most people have no idea this movie is coming but, once they find out, it has huge four-quadrant potential. The original film gains fans on a probably daily basis and though it was a hit when it first came out, it's become a must-see film in the pop culture canon.
Dumb and Dumber To opens November 14. Kathleen Turner, Laurie Holden, and Rob Riggle are also set to star, along with Cam Neely (Sea Bass) and Brady Bluhm (Billy in 4C).
Jim Carrey and Jeff Daniels reprise their signature roles as Lloyd and Harry in the sequel to the smash hit that took the physical comedy and kicked it in the nuts: Dumb and Dumber To. The original film's directors, Peter and Bobby Farrelly, take Lloyd and Harry on a road trip to find a child Harry never knew he had and the responsibility neither should ever, ever be given.