'Pacific Rim 2' Still A Possibility; Original Outgrossed Superman, Batman And X-Men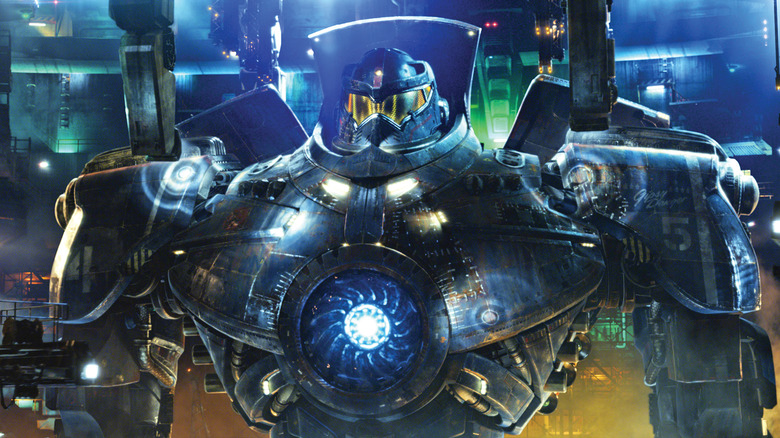 Pacific Rim 2 might still happen, according to Legendary Pictures CEO Thomas Tull. In a new interview, the film's producer pointed out despite a general malaise surrounding the film in the United States, it did incredibly well internationally and has been a bigger-than-expected hit on home video and with merchandise. Tull says talks with director Guillermo del Toro will happen soon to figure out the fate of the film.
Below, read Tull's quote about Pacific Rim 2 which includes an incredible list of films the original outgrossed.
Tull spoke to Collider about Legendary's other big monster movie, Godzilla, and was asked about Pacific Rim 2:
We love being in business with Guillermo and frankly that movie, if you look it up, did I think more business than the first X-Men, did more than Batman Begins, our first movie, did more than Superman Returns, The Fast and the Furious, Star Trek- so for a movie that was an original property that we made up it's done really well. It did north of 400 million dollars globally and both the home video sales and the merchandise have way over-indexed, so it seems like fans really loved the world. So we're going to sit down with Guillermo and as long as we think it's authentic and there's something to say, we're certainly open to it.
I know what you're thinking. "That can't be right. There's no way Pacific Rim outgrossed all those films." Well, it's true. Granted, it's the newest of the bunch, which means ticket prices were higher. Plus it was in 3D and IMAX. But either way, on a worldwide scale, according to Box Office Mojo, those movies rank like this:
Pacific Rim – $411 Million
Superman Returns – $391 Million
Star Trek (2009) – $385 Million
Batman Begins – $374 Million
X-Men – $296 Million
The Fast and the Furious – $207 Million
Every single one of those movies got sequels, and each sequel was a bigger hit than the original (Superman Returns didn't, but I'm cheating and counting Man of Steel). In some cases, the grosses doubled, tripled or quadrupled the gross of the original film. Maybe Pacific Rim 2 can do something similar.
Guillermo del Toro is currently filming Crimson Peak which doesn't come out until late 2015. So, best case scenario, Pacific Rim 2 wouldn't start lensing until then. And we all know best case scenarios never happen in Hollywood. For fans, it's just nice to know Pacific Rim 2 hasn't been totally forgotten.
Read some rumors about the film at this link. Do you think Pacific Rim 2 is going to happen?