Star Wars Bits: Seth Rogen, ILM, Potential TV Casting, Wedge And George Lucas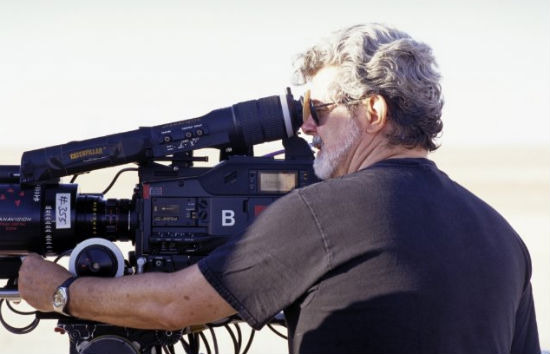 There are rumors, jokes and quotes in this edition of Star Wars Bits. Below, read about the following:
Seth Rogen breaks out a killer Episode I impression to audition for Star Wars Episode VII.
Casting might be ongoing for live-action Star Wars TV shows.
George Lucas tells film students to not get enamored with new technology.
Industrial Light and Magic opens a new Vancouver facility.
Licensees and vendors may have seen a Episode VII presentation.
Dave Filoni did an in-depth interview on the final season of The Clone Wars.
The traveling Star Wars science exhibit just had its 3 millionth visitor.
Wedge won't do just a cameo in Star Wars Episode VII.
Talking to MTV at SXSW, Seth Rogen does his best Star Wars impression in the hopes of impressing J.J. Abrams for Star Wars Episode VII.
Get More:
Movie Trailers, Celebrity NewsCinelix has an interesting article that says in addition to casting Star Wars Episode VII, casting directors have been looking for actors to appear in "specials and mini-series." There no additional information beyond that but, if true, it's certainly makes sense.George Lucas recently spoke at USC and offered a very interesting piece of advice to young filmmakers, according to Variety:
Don't forget the basics. Don't get enamored with new technology, because it's not new. Just the medium we're working in is new, but that doesn't change anything. The art of what we do is exactly the same. It's beyond technology. It's the art of movies.
That's a nice sentiment but it's kind of odd coming from the man who helped pioneer special effects, sound, digital capture and more. Lucas has never been one to stick to a single idea, though.
A new Industrial Light and Magic office is opening in Vancouver, British Columbia via The Hollywood Reporter. It's expected to handle about one-third of the work on Star Wars Episode VII, in addition to other films.
JediNews is reporting licensees and vendors may have been meeting with high profile people in regards to Star Wars Episode VII. That sounds reasonable, as they'll have only 20 months or so to make all the merchandise and advertising surrounding the film. However, the same report incorrectly says members of the media may have been invited to set. That, definitely, is not the case. So take the full report with a grain of salt.IGN has a spoiler-filled interview with Dave Filoni talking about his mindset in completing The Lost Episodes of Star Wars: The Clone Wars.
Nine years ago, I drove from New York to Boston to see Star Wars: Where Science Meets Imagination. Since then it's been at twenty different venues and, this past week, the three millionth visitor walked through the doors. Star Wars.com has the full story.
Finally, a friend of Denis Lawson, who played Wedge Antilles, reported that the actor wouldn't appear in Star Wars Episode VII for just a small cameo:
We spoke to him when he was doing a signing last year and he said he wasn't interested in just a cameo, but if there was a fully rounded and expanded role for him in the film, he would consider it, script and price pending.