'The Giver' Trailer: Jeff Bridges Gets In On The Dystopian YA Action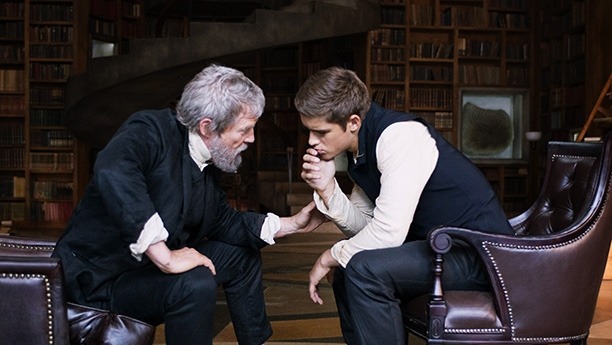 We're drowning in dystopian YA this week. Monday brought the first trailer for The Maze Runner, and Friday brings the premiere of Divergent. Today, we have the very first The Giver trailer.
Directed by Phillip Noyce, the Lois Lowry adaptation unfolds in a seemingly perfect society without hunger, pain, or strife. But when young Jonas (Brenton Thwaites) is assigned to be the community's keeper of memories, he discovers that this utopia comes at a staggering cost. Jeff Bridges and Meryl Streep also star. Watch the video after the jump.
What sets The Giver apart from every other YA adaptation? Well, for starters, the book it's based on predates the current YA craze. Lowry's award-winning novel was published in 1993, well over a decade before The Hunger Games, Divergent, or Maze Runner were published.
The novel is also much more cerebral than its younger YA shelfmates. Lowry's book was more about contemplation and reflection than pulse-pounding action; there were no shootouts or death matches to speak of. (Death panels, on the other hand...)
But you wouldn't know that from watching the trailer, which plays like a boy version of Divergent. There are scary-looking planes, badass-looking motorbikes, teen romance, intense music, and many ominous warnings about secrets and whatnot. Even Streep looks like she's playing an older version of Winslet's Jeanine from Divergent.
Granted, this is just one trailer. The Divergent parallels are probably to The Giver's advantage since this trailer will presumably play in front of Divergent at the theater this weekend. But as a fan of the original book, I'd hate to see Lowry's unique vision filed down into just another generic dystopian YA adaptation.
The Giver arrives August 15.
The haunting story of THE GIVER centers on Jonas, who lives in a seemingly ideal, if colorless, world of conformity and contentment. Not until he is given his life assignment as the Receiver of Memory does he begin to understand the dark, complex secrets behind his fragile community. The film is based on Lois Lowry's beloved young adult novel of the same name, which was the winner the 1994 Newbury Medal and has sold over 10 million copies worldwide.