'The Amazing Spider-Man 2' Final Trailer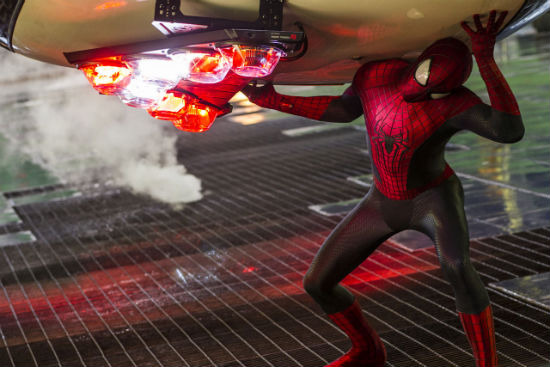 We've seen so many trailers, TV spots, clips, and images for The Amazing Spider-Man 2 at this point, we're wondering if there's even anything left for the theater. But Sony has dug up still more new footage for one last trailer, which they say is the last one until the movie opens in May.
While most of the promos have focused on Jamie Foxx's Electro as the main villain, the Amazing Spider-Man 2 final trailer emphasizes the complicated Harry Osborn (Dane DeHaan). Sony throws in a nice shot of the Rhino (Paul Giamatti) in action, too. Check it out after the jump.
It's not a bad trailer. The big battle between Spidey and the Rhino seems exciting, and Green Goblin's evil plotting looks intriguing. And Andrew Garfield continues to be utterly charming as our friendly neighborhood superhero. But let's hope this really is Sony's last trailer. I want to feel like my $12 movie theater ticket is actually going to get me something I haven't seen already.
You can see whatever is left of the The Amazing Spider-Man 2 on May 2.
We've always known that Spider-Man's most important battle has been within himself: the struggle between the ordinary obligations of Peter Parker and the extraordinary responsibilities of Spider-Man. But in The Amazing Spider-Man 2, Peter Parker finds that a greater conflict lies ahead.
It's great to be Spider-Man (Andrew Garfield). For Peter Parker, there's no feeling quite like swinging between skyscrapers, embracing being the hero, and spending time with Gwen (Emma Stone). But being Spider-Man comes at a price: only Spider-Man can protect his fellow New Yorkers from the formidable villains that threaten the city. With the emergence of Electro (Jamie Foxx), Peter must confront a foe far more powerful than he. And as his old friend, Harry Osborn (Dane DeHaan), returns, Peter comes to realize that all of his enemies have one thing in common: OsCorp.