'Godzilla' International Trailer: Mass Destruction With An Artistic Touch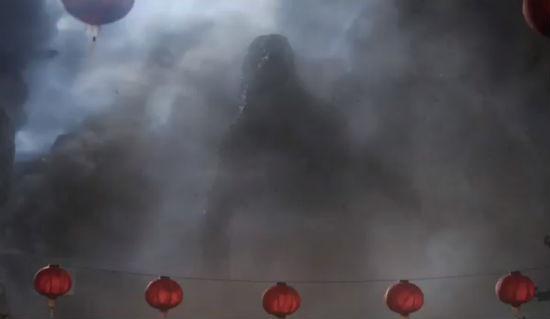 The awesome marketing for Gareth Edwards' Godzilla continues with a brand new, action-packed Godzilla international trailer. The tone of the jaw-dropping last trailer remains. Here those elements are combined with new shots of mass destruction, the impressive cast and a snappier pace. Check it out below.
Warner Bros. UK posted the trailer.
I can't be the only one initially excited by the 2 minute runtime, only to severely disappointed by 30 seconds of ads at the end of the trailer, right? That's an ad type I do not stand behind.
As for the trailer itself, it simply continues the trend of Edwards' film looking like a work of art. I can't think of a big, destructive blockbuster like this that's looked so incredibly beautiful in the trailer. Almost every single image had me saying, "That's a Mondo poster, that's a Mondo poster, that's a Mondo poster." If the story and character are handled with half the care the shot composition and rendering was, we're in for a real treat come May 16 when Godzilla storms into theaters.
Godzilla, directed by Gareth Edwards, opens May 16 and stars Avengers: Age of Ultron siblings Aaron Taylor-Johnson and Elizabeth Olsen, as well as Ken Watanabe, Bryan Cranston, Sally Hawkins, Juliette Binoche, David Strathairn and at least one massive, massive green monster.
An epic rebirth to Toho's iconic Godzilla, this spectacular adventure, from Warner Bros. Pictures and Legendary Pictures, pits the world's most famous monster against malevolent creatures who, bolstered by humanity's scientific arrogance, threaten our very existence.
Gareth Edwards directs "Godzilla," which stars Aaron Taylor-Johnson ("Kick-Ass"), Oscar nominee Ken Watanabe ("The Last Samurai," "Inception"), Elizabeth Olsen ("Martha Marcy May Marlene"), Oscar winner Juliette Binoche ("The English Patient," "Cosmopolis"), and Sally Hawkins ("Blue Jasmine"), with Oscar nominee David Strathairn ("Good Night, and Good Luck.," "The Bourne Legacy") and Bryan Cranston ("Argo," TV's "Breaking Bad").