Watch Tom Hiddleston Sing As Young Captain Hook In 'The Pirate Fairy'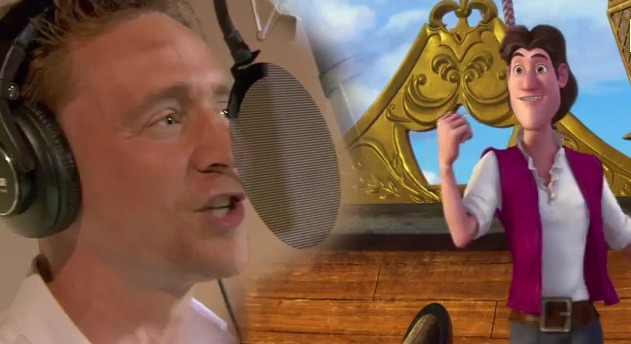 Disney has released a new video clip from their upcoming DisneyToon Studios animated film The Pirate Fairy. The musical animated film is a Tinkerbell spinoff, described as "Hook before the hook" featuring Tom Hiddleston (Loki from the Marvel  movies) as James, a cabin boy who ends up becoming Captain Hook. Christina Hendricks plays the main character Zarina (above), a red-haired bad-ass fairy who falls for Hiddleston's character.
Hit the jump to watch a clip of Hiddleston singing "The Frigate that Flies" (one of the songs from the film) in the voice over studio, and explaining his character motivations as young Hook.
The Pirate Fairy: Tom Hiddleston as Young Captain Hook sings "The Frigate that Flies
The official Disney-approved plot synopsis follows:
Producer: Jennifer Magee-Cook From the world of "Peter Pan" comes "The Pirate Fairy," a swashbuckling new adventure about Zarina (voice of Christina Hendricks), a smart and ambitious dust-keeper fairy who's captivated by Blue Pixie Dust and its endless possibilities. When Zarina's wild ideas get her into trouble, she flees Pixie Hollow and joins forces with the scheming pirates of Skull Rock, who make her captain of their ship. Tinker Bell (voice of Mae Whitman) and her friends must embark on an epic adventure to find Zarina, and together they go sword-to-sword with the band of pirates led by a cabin boy named James (voice of Tom Hiddleston), who'll soon be known as Captain Hook himself. With laughter, heart, magic and thrills, "The Pirate Fairy" sets sail.
Peggy Holmes directs — she had previously directed a bunch of Disney's direct to dvd sequels including Secret of the Wings, The Little Mermaid: Ariel's Beginning, The Jungle Book 2 after starting as a cherographer on films like Newsies, Wayne's World, and A Very Brady Sequel. The voice cast also includes: Mae Whitman, Christina Hendricks, Tom Hiddleston, Lucy Liu, Raven-Symoné, Megan Hilty, and Anjelica Huston. The Pirate Fairy will be released on Blu-ray and Digital HD on April 1st 2014.