Jon Hamm And Zach Galifianakis Are 'Keeping Up With The Joneses'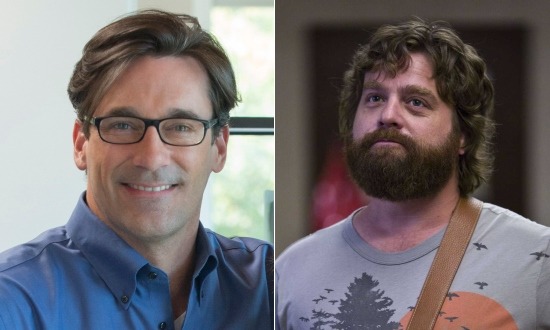 Don Draper from Mad Men and Alan from The Hangover would go together like oil and water — which is to say, not at all. But Jon Hamm and Zach Galifianakis? Yes please.
The two funnymen are looking to co-star in Keeping Up With the Joneses, a new comedy being directed by Greg Mottola. Walter Parkes and Laurie MacDonald are producing the Fox 2000 comedy. Hit the jump for plot details and more.
Keeping Up With the Joneses follows an unfulfilled type-A suburban couple whose lives are disrupted by the arrival of some sexy, charismatic new neighbors. The first couple grows suspicious and eventually discover that he newcomers are undercover agents.
It's unclear which actor is playing which role. Based on the way these two are usually typecast I'm going to guess Galifianakis is the unhappy, tightly wound dude and Hamm is the dashing spy, but it'd be funny the other way around too.
Galifianakis has been a hot topic all week thanks to his Between Two Ferns interview with President Barack Obama. He has a cameo role in next weekend's Muppets Most Wanted and will appear in Alejandro González Iñárritu's Birdman after that. He was last seen in The Hangover Part III.
Meanwhile, Hamm is shooting James Franco's The Sound and the Fury and also has Disney's Million Dollar Arm coming out in May. In addition, his Mad Men returns to AMC for the first half of its final season next month.
Keeping Up With the Joneses marks his feature with Galifianakis, though the two previously crossed paths on Galifianakis' Between Two Ferns. Watch the clip below: