Watch Vince Gilligan On Community: 'Breaking Bad' Creator In Greendale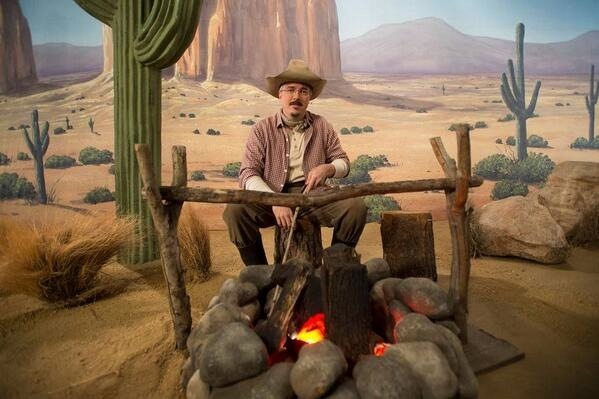 Did you see Vince Gilligan on Community last night? The Breaking Bad creator had a cameo appearance on this week's episode of the NBC comedy series. Gilligan appears as a Southern cowboy guide on a vintage VCR game played by Abed and Annie. He also appeared in a post-credits sequence with Gina Gershon. Watch both clips embedded now after the jump.
Vince Gilligan on Community as the host of the Pile of Bullets VCR Game
The post-credits scene features an appearance of Vince Gilligan in 1993 receiving a call to play the host in the VCR game Pile of Bullets:
Vince Gilligan Gets A Job
Vince Gilligan on Community Cameo Casting
Gilligan tells the New York Times that the appearance came about because Community creator Dan Harmon was a fan and gave him a call:
Everybody in their heart of hearts wishes they could be Errol Flynn or Harrison Ford, swashbuckling away in a big movie. I always knew I couldn't act and I couldn't sing, so I never really tried either. But out of the blue, Dan Harmon called up and said, would you like to do a guest shot on "Community"? And it was irresistible. I couldn't say no. ... I was so nervous because – not that it needs to be stressed for anyone who will watch the episode – I am no actor. I studied my lines. I tried to picture how Bryan Cranston or Aaron Paul would do it. But I got there and I said to Dan, "Are you sure about this? There's a very good possibility I may be unwatchably terrible." And he said, "We know that, too. [Laughs] The whole point of the character you're playing is that he's a bad actor. So the worse you are, perhaps the funnier it would be."
Gilligan also says he researched the southern accent by watching Gabby Hayes videos and Walter Huston in The Treasure of the Sierra Madre.