POTD: Wes Anderson's 'The Grand Budapest Hotel' Projection Instructions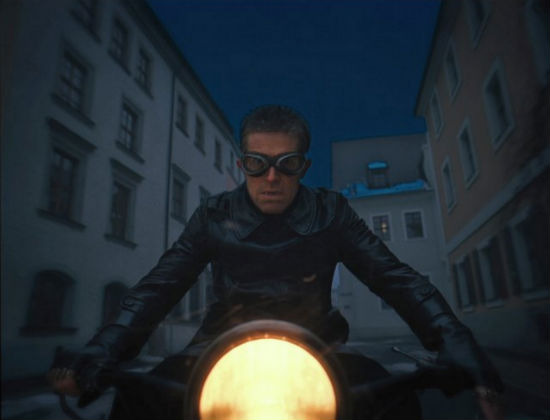 Any good director will tell you they make a movie three times. The script, the shooting and the editing. But there's a fourth time too, and that's the projection. When filmmakers finish a film, most simply let it go out into the world, allowing legions of projectionists with varying levels of experience to dictate how an audience sees their movie.
However, some filmmakers take control of that process too and the latest example is Wes Anderson. Anderson had Fox Searchlight include a specific set of projection instructions with each and every print/DCP of his wonderful new film, The Grand Budapest Hotel, and you can see the image below.
Thanks to Reddit (via Collider) for this image: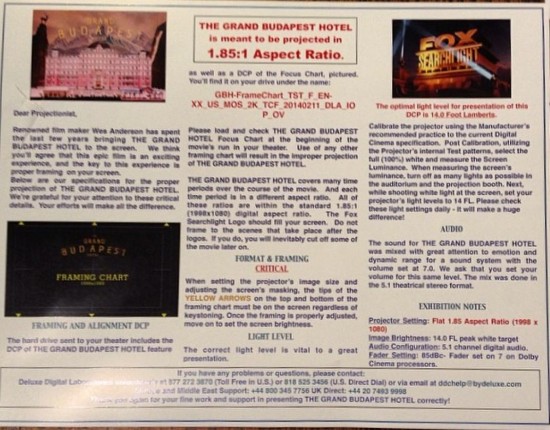 Despite the fact Anderson is taking control of the final phase of film creation, there's one bigger reason why The Grand Budapest Hotel has these instructions and it's mentioned in there. The movie changes aspect ratios depending on the time period. For the majority of the film, it's in a 1:33:1, square aspect ratio (such as the header image at the top of the post). Changing aspect ratios is a way for Anderson to easily discern the multiple layers of stories he's telling. That kind of detail isn't something a lot of filmmakers do (it's not new, but its uncommon) so putting in the instructions is a fail safe.
The Grand Budapest Hotel opens in more theaters this weekend and we highly recommend you check it out. You can read our review here and a cool behind the scenes story here.
THE GRAND BUDAPEST HOTEL recounts the adventures of Gustave H, a legendary concierge at a famous European hotel between the wars; and Zero Moustava, the lobby boy who becomes his most trusted friend. The story involves the theft and recovery of a priceless Renaissance painting; a raging battle for an enormous family fortune; a desperate chase on motorcycles, trains, sleds, and skis; and the sweetest confection of a love affair — all against the back-drop of a suddenly and dramatically changing Continent. Starring Ralph Fiennes, F. Murray Abraha, Mathieu Amalric, Adrien Brody, Willem Dafoe, Jeff Goldblum, Jude Law, Harvey Keitel, Bill Murray, Edward Norton, Saoirse Ronan, Léa Seydoux, Jason Schwartzman, Tilda Swinton, Tom Wilkinson, Owen Wilson, and introducing Tony Revolori.