'Rosemary's Baby' Remake First Look [Updated]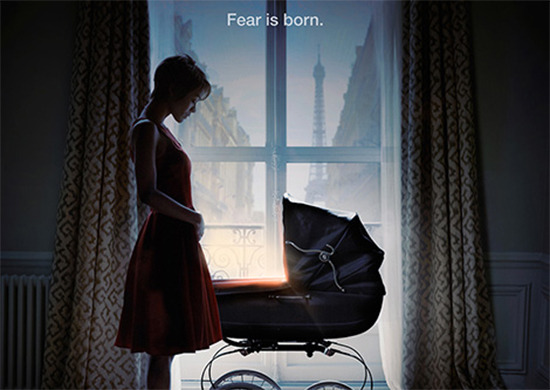 Remake creators will often proclaim that any given remake is a new take on material, and that it won't look much at all like a previous film. And yet the first materials released always seem to look quite a lot like that original film. Take Rosemary's Baby as an example. The NBC mini-series adapts Ira Levin's original novel with Zoe Saldana, Patrick J. Adams and Jason Isaacs starring in the tale of a young woman who begins to suspect that her pregnancy has been controlled by neighbors with nefarious intentions.
Here's our first look at Rosemary's Baby via two photos, and the echo of Roman Polanski's original film is definitely in one. 
Update: We've got better versions of these images, and a new poster to go along with them.EW has these pics.
The image of Rosemary on the bed with Adams hovering above her really seems to channel Polanski, but that may simply be a trick of the still image. There's some value in showing an image to a potential audience that will allow them to think "yeah, that looks like Rosemary's Baby." We'll get a much better sense of the show when footage arrives. Saldana is a compelling part of the equation, especially since her image is of a pretty tough woman. Seeing her play the vulnerable and withering Rosemary will be a change of pace, and she might bring something unexpected to the part.
Agnieszka Holland directed the four-hour NBC mini-series, which will air starting in May.