'Pro Wrestlers Vs Zombies' Movie Trailer: Rowdy Roddy Piper Battles The Undead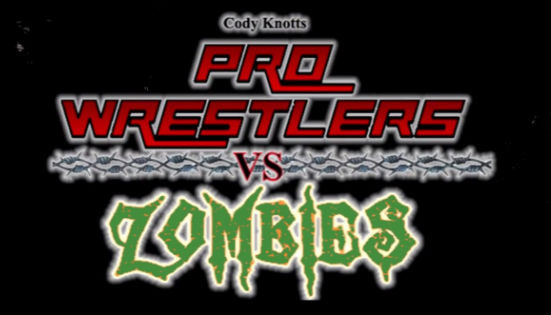 There is a movie called Pro Wrestlers vs Zombies. At this very instant, you either know exactly what that movie is and want to see it, or are rolling your eyes at the absolute, utterly insane absurdity of the idea. And still want to see it.
Written and directed by Cody Knotts, Pro Wrestlers vs. Zombies stars "Rowdy" Roddy Piper, "Hacksaw" Jim Duggan, "The Franchise" Shane Douglas, Olympic Gold Medalist Kurt Angle and Matt Hardy as a group of wrestlers booked for an event at an abandoned prison. But guess what? The prison isn't abandoned and I bet you can't guess who the new inmates are. Yup, zombies!
The trailer for this wacky film is now online and it totally lives up (or down, depending on your point of view) to your expectations. Check it out below.
Thanks to Principalities of Darkness for the trailer.
Here's the film's description from the official site. Head there to read more. Apparently, Pro Wrestlers vs. Zombies is "coming soon to a theater near you."
"Pro Wrestlers Vs. Zombies" is exactly as it sounds — sports entertainment icons and local ring talent using their signature fighting styles, athleticism and anything they can get their hands on to fend off the undead.An abandoned prison is the battlefield as a troupe of professional wrestlers are booked for a private show, only to be faced with the undead. Unfortunately for the zombie nation, they aren't just facing any group of professional wrestlers, they are facing living legends like WWE Hall of Famer "Rowdy" Roddy Piper, Matt Hardy, "Hacksaw" Jim Duggan, former ECW World champions "The Franchise" Shane Douglas and even Olympic medalist turned WWE and TNA World champion Kurt Angle!Other wrestlers in the cast are Ryan "The Steel City Prodigy" Mitchell, Shane Taylor, Ryan Edmonds and Facade. Taya Parker, Penthouse Pet of the Year in 2009, and Reb Sky, Howard Stern's Woman of the Year and Shannon Hart are in the cast, as is a guy with a mustache you have to see to believe.The main villain in the film is played by Renegade Wrestling Alliance legend and former McKeesport-based Pro Wrestling eXpress superstar Ashton Amherst. He calls upon dark forces to exact revenge on "The Franchise" Shane Douglas for killing his brother during a wrestling match. He leads an ever-growing zombie horde against Douglas, his family, and the cast of professional wrestlers.What happens when the guts and glory of professional wrestling's finest are squared off against an army of darkness seeking to rip them to shreds? Blood and dropkicks!The wrestlers all performed their own stunts and no CGI was used. Rowdy Roddy Piper even put one of the zombies, wrestler G.Raver, in the hospital after smashing him in the head with a cooking pot in the kitchen scene!Movie soundtrack features music by Dead in 5, Reverent Skye, Ken Hampton, and 2011 Italian Golden Globe winning composer Marco Werba."Pro Wrestlers Vs. Zombies" primarily was filmed in Parkersburg, West Virginia, with locations at the former Wood County Jail, Fort Boreman Park, City Park and several restaurants.