'Get On Up' Trailer: How James Brown Became The Godfather Of Soul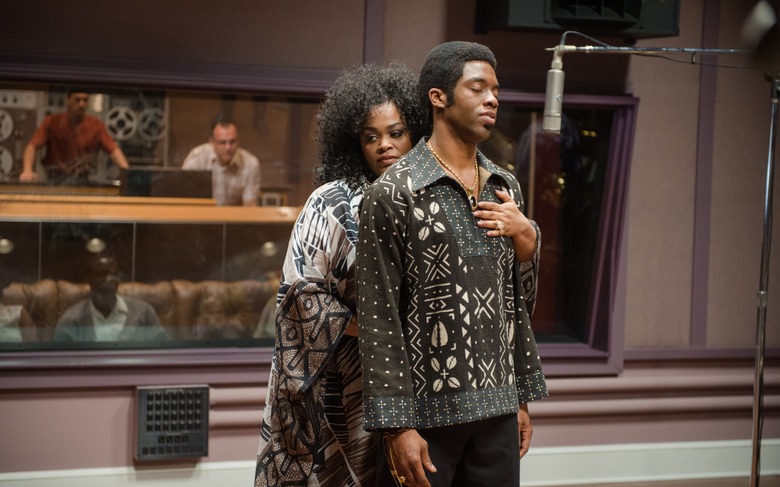 Hot on the heels of this morning's first-look image, Universal has released the first Get On Up trailer. The Tate Taylor-directed biopic stars Chadwick Boseman – last seen playing another American icon, Jackie Robinson, in 42 – as James Brown, tracing his journey from poor street kid to the Godfather of Soul.
Viola Davis, Octavia Spencer, Nelsan Ellis, Lennie James, Tika Sumpter, Jill Scott, and Dan Aykroyd also star. Watch the video, and check out a big bunch of high-res images, after the jump.
Get On Up is Taylor's follow-up to The Help, another Southern-set period piece. That film went on to win one Oscar (for The Help and now Get On Up star Spencer) and get nominated for three more, so there's already some prestige attached to this one.
Taylor told USA Today that Get On Up would be a bit unusual in that it'd have Brown breaking the fourth wall and speaking directly to the audience, but we don't get any of that here. It looks more like a straightforward biopic, even if Taylor insists it isn't one. ("We're going to put it on shuffle instead of play," he told press.)
Get On Up opens August 1.
In his follow-up to the four-time Academy Award®-nominated blockbuster The Help, Tate Taylor directs 42's Chadwick Boseman as James Brown in Get on Up. Based on the incredible life story of the Godfather of Soul, the film will give a fearless look inside the music, moves and moods of Brown, taking audiences on the journey from his impoverished childhood to his evolution into one of the most influential figures of the 20th century. Boseman is joined in the drama by Viola Davis, Octavia Spencer, Nelsan Ellis, Lennie James, Tika Sumpter, Jill Scott and Dan Aykroyd.