'Saving Mr. Banks' Deleted Scene: "Goodbye Pamela"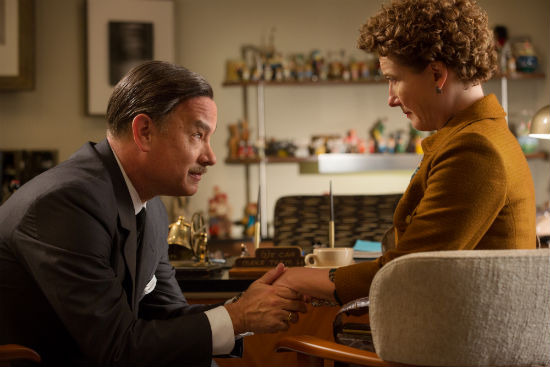 Saving Mr. Banks wasn't the runaway award contender Disney hoped for, but a newly found deleted scene sure looks like it was. Featuring Tom Hanks, Emma Thompson and Paul Giamatti, it's a pretty revealing and well-acted scene that probably gave away too much too soon for director John Lee Hancock. Still, if you want to see almost the entire conflict of the movie condensed into a two-minute scene, this will do it. Check out this Saving Mr Banks deleted scene below.
Thanks to Disney and More for the spot.
I like all the performances here and the writing is strong, but everything covered in this clip – specifically P.L. Travers reluctance to give up the rights to Mary Poppins because of a connection to her father – is covered elsewhere. The broken promises stuff is pretty great though and I'm glad this scene made it out into the public.
Saving Mr. Banks hits Blu-ray on March 18. If you are a fan of Disney, Mary Poppins, or simply well-acted drama, it's most certainly worth a watch. Chances are, many didn't see it in theaters.
Here's a video review Peter and I did when the film was released.
And a synopsis via Fandango:
The story of how Walt Disney courted P.L. Travers into letting him option the rights to Mary Poppins is brought to the screen in this non-fiction drama starring Tom Hanks, Emma Thompson, and Colin Farrell. A doting father, Walt Disney (Hanks) promises his adoring daughters that he will bring their favorite fictional nanny Mary Poppins to the big screen. Little does Walt realize that surly author P.L. Travers has no intention of seeing her most famous creation bastardized for moviegoers, a fact that makes keeping his promise a difficult endeavor. Years later, however, whenTravers' book sales begin to slow, dwindling finances drive her to schedule a meeting with Disney to discuss the film rights to the beloved story. For two weeks in 1961, a determined Disney does his absolute best to convince Travers that the film version of Mary Poppins will be a wondrous and respectful adaptation, meanwhile the author only grows more convinced that she has made the right move in preventing the proposed film adaptation. Later, just when it begins to appear that the rights to Mary Poppins have slipped through his fingers, the ingenious Disney reflects back on his childhood, and realizes that a sensitive chapter from Travers' youth could be the key to clinching the deal. Bradley Whitford, Paul Giamatti, and Jason Schwartzman co-star.