Sequel Bits: 'Fast & Furious 7', 'Raid 3', 'Transformers 4', 'Insidious 3', 'Frozen 2'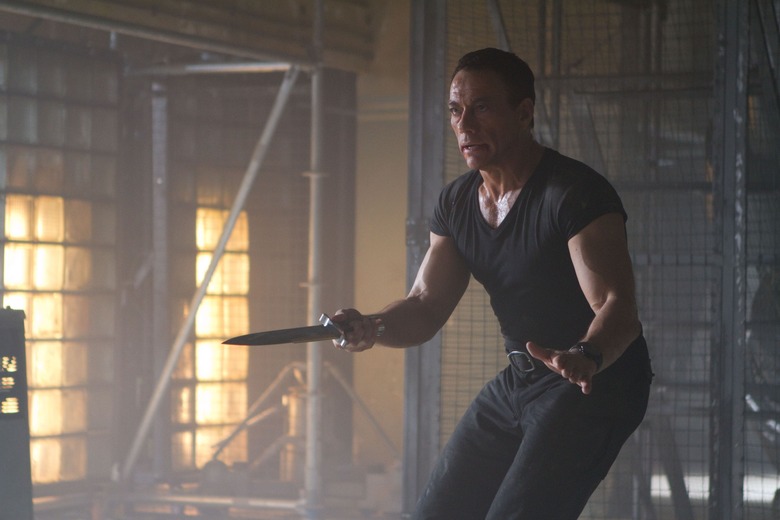 Whether you like family-friendly animated adventures or hard-R action thrillers, someone out there is trying to make a sequel for you. After the jump:
Kristen Bell would do Frozen 2 "in a heartbeat"
Sullivan Stapleton really wants there to be another 300
Jean Claude Van Damme would like to be in Expendables 4
The Raid 3 won't get going "for a couple of years"
Fast & Furious 7 is heading to Abu Dhabi to shoot
Leigh Whannell doesn't know anything about Saw 8
... but does have a few details to share about Insidious 3
Transformers 4 reveals a bunch of (human) character posters
The GNN staff goes wild in a deleted scene from Anchorman 2
But don't get too excited just yet. Bell claims not to have heard anything official yet about the sequel. Watch her talk about the still-theoretical Frozen 2 below.
video platformvideo managementvideo solutionsvideo player
[HitFix]
300: Rise of an Empire is Sullivan Stapleton's splashiest role yet, so it's no surprise that he wants to return for more. "It's a huge story, and those battles between the Greeks and Persians went on for years and years," he said. "I hope to God we do another sequel. If we don't, hopefully they put me in another film." 300: Rise of an Empire, itself a sequel to 2006's 300, is in theaters now. [Deadline]
Jean Claude Van Damme, star of The Expendables 2, hopes he'll be asked back for The Expendables 4. He even has an idea about what he could do in the new movie, as he explains in the following note.
Dear Trevor and the Expendables Premiere fans, I had a great time shooting The Expendables 2 with Mr. Stallone and other big action stars.
Mr. Stallone is an inventive man. He may even create a stronger character than Claude Vilain, the twin brother of Jean Vilain.
Some fans ask me if the next Vilain –if there's next– is going to be a good or a bad guy.
I would leave it to Mr. Stallone to decide, as I trust his way of imagination. Thank you,
JCVD
Hmm... wonder where he got that idea? Oh, and lest you think the plea is fake, Van Damme himself posted a link to the report on his confirmed Twitter page. [Expendables Premiere via Movies With Butter]
Gareth Evans revealed recently that The Raid 3 would overlap with The Raid 2 in terms of narrative chronology. But in terms of real-life production, there'll be a significant gap between the two.
I'm not touching The Raid 3 for a couple of years from now. I don't have any plans to do The Raid 3 within the next two or three years so I'm going to take a break from that franchise for a bit. I want to do some things outside of Indonesia for like two films, then come back to Indonesia and shoot The Raid 3.
However, Evans does have plans to re-team with The Raid star Iko Uwais in between. "I have another one I want to shoot with him first," he said. "Still in the action genre and it's something that he needs to train for for a fair amount of time. You have to make good with some weaponry, my friend." [Crave Online]
Fast Five took Dom & company to Rio, Fast & Furious 6 brought them to London, and now Fast & Furious 7 is preparing to drop in on yet another exotic, glamorous locale. Shooting on the sequel is scheduled to begin in Abu Dhabi next month, according to a statement, with stars Vin Diesel, Michelle Rodriguez, Tyrese Gibson, and Chris "Ludacris" Bridges all due on set.
The news doesn't come as a surprise. Footage for the movie was previously shot in November, before Paul Walker's death halted production. Fast & Furious 7 is scheduled for release on April 10, 2015. [THR]
Last year, we got word that Saw 8 was in "active development" at Lionsgate. But if it is, series creator Leigh Whannell says, he knows nothing about it. "To my knowledge, no," he said when asked if the sequel was happening. "No one's told me yet."
Nor does he sound like he particularly wants to be involved in an eighth Saw. "I feel that I would almost be a detriment. I feel like I have contributed all I can to that character and I almost want to see someone new come in," he said. "But I wouldn't mind if they did [another one], as long as they came to it with something crazy and new."
He is definitely on board for Insidious 3, though. "I've just done a first draft," Whannell confirmed. Whereas the first two installments focused on the Lambert family, Whannell revealed the new one will start with fresh characters. But you can expect to see Whannell and Angus Sampson's ghost hunter characters Specs and Tucker again.
Watch his interview below:
Insidious 3 opens April 3, 2015. [Screen Rant]
Mark Wahlberg and Michael Bay aren't the only ones who can pull off the hero shot. The new batch of Transformers: Age of Extinction posters gives Jack Reynor, Nicola Peltz, and Li Bingbing each a chance to shine.
They all look pretty good here. Peltz seems especially adept at delivering that right poster-appropriate mix of vague determination and even vaguer concern. Transformers: Age of Extinction premieres June 27. [MichaelBay.com]
Can't get enough of Ron Burgundy? We have good news for you, then: We've got a deleted scene from Anchorman 2: The Legend Continues right here.
The scene above will be released as a special feature on the digital version of the movie, which lands on iTunes and Xbox today. Anchorman 2: The Legend Continues will then hit VOD, DVD, and Blu-ray on April 11. [Movies.com]