'Hateship Loveship' Trailer: Kristen Wiig Gets Serious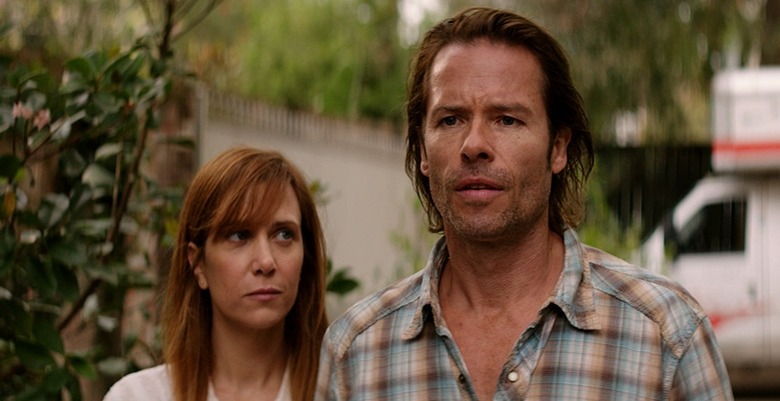 Kristen Wiig may have gotten her start on Saturday Night Live, but her range as an actress expands far beyond comedy. The new Hateship Loveship trailer takes her to the dramatic end of the spectrum, playing the mousy caretaker to troubled teen Sabitha (Hailee Steinfeld).
The plot gets rolling when Sabitha plays a cruel practical joke on Wiig's Johanna, encouraging her to fall for Sabitha's recovering drug addict dad Ken (Guy Pearce). The picture was helmed by Liza Johnson, director of the acclaimed if underseen Return, and based on Alice Munro's short story Hateship Loveship Courtship Loveship Marriage. Watch the Hateship Loveship trailer after the jump.
Hateship Loveship didn't garner much buzz at TIFF, where it debuted last year. The few critics who did catch it mostly had nice things to say about Wiig's performance — her most dramatic one to date — but not all were impressed by the movie as a whole. Some complained that "the picture seems to suggest traditional domesticity and gender roles as the saving grace for some of the characters," while others found the movie to be "too restrained."
IFC Films has Hateship Loveship scheduled to hit VOD and theaters on April 11. Nick Nolte, Jennifer Jason Leigh, Christine Lahti, and Sami Gayle also star.
Johanna Parry (Kristen Wiig) is a profoundly shy, unadorned woman who is hired by Mr. McCauley (Nick Nolte) as a housekeeper and a primary caregiver to his granddaughter Sabitha (Hailee Steinfeld). Despite her outgoing nature, Sabitha carries wounds from the death of her mother years before, complicated by the circumstances of that death for which her grandfather still blames her father, Ken (Guy Pearce), a hapless recovering drug addict with a certain ragged charm. In an act of mean-spirited rebellion, Sabitha uses technology to foster a pseudo-relationship between Johanna and her father, never dreaming of the potential harm to either party. Sabitha doesn't understand that Johanna is not a demure cut-out, but rather a woman for whom the phrase "still waters run deep" could have been coined. The young girl's interference provokes Johanna to indulge in something long missing from her life: the dream of a future and a home of her own.