Watch: 'The Matrix' Fan Film 'Trickster'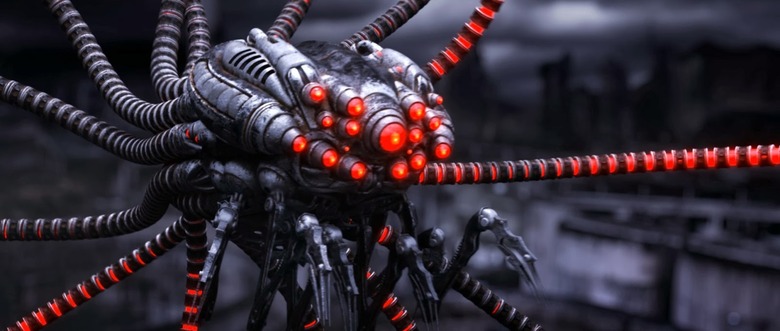 A couple weeks ago a rumor circulated the movie blogosphere that the Wachowskis siblings were already deep into developing a new trilogy of films as part of The Matrix franchise. We don't know if there is any truth to those early reports, but you won't have to wait a couple years to see another Matrix adventure: Technical 3D artist  Felix Joleanes has released the fun little Matrix fan film Trickster online for you to enjoy. Hit the jump to watch the short film and find out more information about how the film was created.
Technical 3D artist Felix Joleanes explains that he directed the live-action short fan film as a filmmaking experiment after playing around with a 3D model of the Sentinel from The Matrix films. He explains why he created the filmmaking and visual effects experiment:
"The project was born in 2013 when Antonio, a friend of mine, suggested to make a video with a Sentinel 3D model that i made some time ago for fun. I was hooked since the beginning with the idea, i wrote a small synopsis and then a 3 page script, the project started to grow more than i expected. At the beginning we only thought of making a small visual effects integration video and then we ended up with a 3 minute live action short film."
This project was shot in Colombia using a GH3 Camera with Rokinon Lenses. Watch the short fan film now embedded below.
The Matrix Fan Film Trickster
If you want to explore the making of this short fan film, the filmmakers have set up a blog at thetricksterproject.blogspot.com filled with the evolution of the visual effects and more. For instance, here is the original sentinel 3d test which spawned this short film:
You can also see a gallery of Felix Joleanes' other computer art work n his personal website joleanes.com.